Vince Vaughn Buddies Up To Bobby Moynihan in 'Saturday Night Live' Promo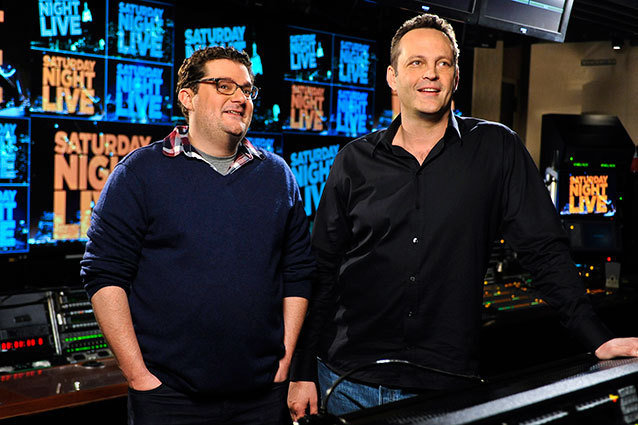 Vince Vaughn has always worked best in pairs. He was the boisterous yin to Owen Wilson's calmer yang in Wedding Crashers…and to Jon Favreau in Swingers….and to Jennifer Aniston in The Break-Up….and so on. In the promo spot for Vaughn's Saturday Night Live hosting gig, the actor is now paired up with cast member Bobby Moynihan, but for once, it looks like the roles are reversed: here Vaughn is playing the straight man. 
Vaughn — who is returning to host SNL for the first time since 1998 (!!) to promote his upcoming comedy The Internship — is calm, cool, and collected as the animated Moynihan asks him how to pick up (literal) chicks, plays with with control room buttons, and gets him alone in the dark. ("I just want to hear you breathe"). That's not to say the actor doesn't get a few laughs in (he plays off of the gag that Jay Pharoah will be his stunt double in case he can't make it on Saturday night) but it's safe to a lot has changed since 1998, including Vaughn. 
Watch the video in which the star does, in fact, pull out some old school Vaughn-isms ("The sweater is everything!") below: 
Vaughn's episode of SNL, which features Miguel as the musical guest, airs this Saturday, April 13 at 11:30 PM ET on NBC. 
More:
Wedding Crashers Vince Vaughn and Owen Wilson to Reteam for 'The Internship'
'Anchorman 2' and the Event Horizon of Movie Star Cameos 
'Saturday Night Live' Recap: Melissa McCarthy's Second Time Around