Why Jay Leno Got a Bad Rap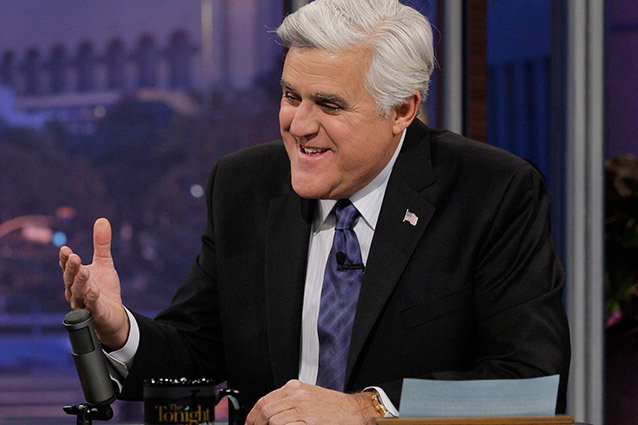 NBC Universal Media
It sure is lonely at the top.
That's a fact that Jay Leno has come to learn as he prepares to take his final bow as host of The Tonight Show. While applause will echo through the Burbank studio as his show wraps for the last time, that same sentiment certainly won't be echoed throughout Internet message boards and dank comedy clubs across the country. There, people are celebrating his departure from NBC like he's late night's version of Joseph Stalin.
Leno, who has hosted the Tonight Show for the past 19 years, isn't being given his due; the public opinion about his exit is sounding less like "Good job" and more like "Good riddance." The entirety of the Internet has entered a chorus of "Ding-dong, the Witch is dead!" as Leno's final show nears and the land of late night enters its happily ever after with Jimmy Fallon at the head. But should Leno's tenure really have such a tarnished legacy?
Obviously those 19 years didn't always go smoothly. Even the inception of his hosting duties were mirred in controversy: Leno was chosen over David Letterman when Johnny Carson left the post in 1992. Even with the rough beginnings, Leno was able to steer the Tonight Show admirably in an increasingly populated sea of late night programs. As the sun sets on Leno's time as host, he still remains the one ratings bright spot that NBC has, as the rest of the network struggles to come up with a real viewership bump in any category besides late night.
Of course, there was also the Conan O'Brien incident of 2009. While Leno doesn't come away spotless in the whole situation, he doesn't deserved to be dragged through the mud because of NBC's terrible decision making.
Broad has become a dirty word in the comedy world, and people have derided Leno for painting with the widest brush possible. yes, Leno's comedy is simple and quick, and easy to grasp and understand, but that doesn't necessarily have to be a bad thing. There's a reason that Leno dominated late night for the overwhelming majority of the time he was there. He captured an audience that loved the jokes he told. An even as you might snark through another rendition of "Headlines," or change the channel during another round of "Jaywalking," there is a whole section of America that feels like it's being directly spoken to. Jay Leno filled a need, and The Tonight Show, the populist institution that it is, needed to be broad enough to touch as many people as possible. Middle America needed their champion too.
So even though Leno wasn't everyone's cup of tea, and he certainly wasn't mine, he still deserves a round of applause. He continued the legacy of The Tonight Show admirably, even though his reign as host wasn't always the smoothest, He still deserves a round of applause.