What's in a Name? Jennifer Aniston's Movie Titles Mirror Her Relationships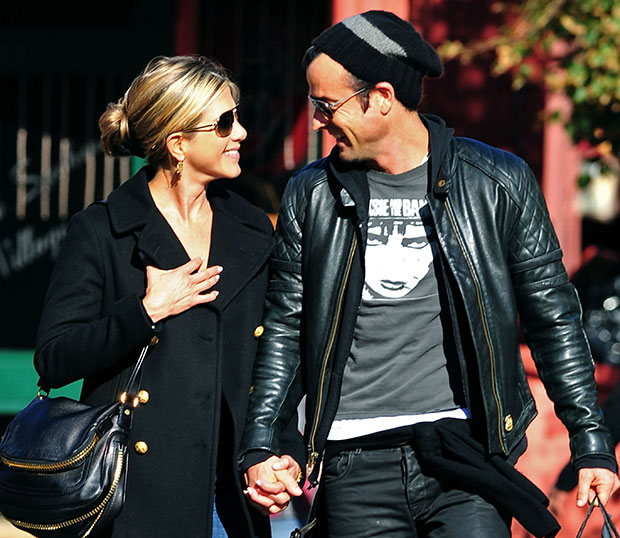 After a big weekend, Jennifer Aniston is most likely spending her Monday purchasing bridal magazines and ooh-ing over flower arrangements. She should be in relationship bliss after her boyfriend of over a year, Justin Theroux, popped the question on Friday on his birthday. But, if you've been keeping track, the road to love has been a bumpy one for Aniston. 
In 2009, Aniston shared an interesting theory to those in attendance at the Women In Film Awards: Her personal life runs a surprising parallel to the movies she's making. From The Good Girl to Rumor Has It, then Derailed and finally The Break-Up, her films' titles do bear a striking resemblance to the events leading up to her infamous divorce from Brad Pitt in 2005.
But the similarities don't stop there. The titles of Aniston's more recent films continue her dating saga.
Love Happens (2009): Aniston dated John Mayer from 2008-2009, making it her longest relationship since her split from Pitt three years earlier. Aniston was giddy when she spoke about Mayer on Ellen in 2009, indicating that she may have finally found love. However, the relationship ended after nearly a year. According to an interview Mayer did with Rolling Stone in January 2010, it seems like Aniston was the one to end the relationship. "I've never really gotten over it. It was one of the worst times of my life," Mayer said.
He's Just Not That Into You (2009): In June of 2009, Aniston reportedly went on one date with Bradley Cooper. Since the flirtation never bloomed into a full-on relationship, our bet is that he just wasn't into it.
The Switch (2010): In 2010, Aniston was linked to her Bounty Hunter costar Gerard Butler. Sick of American men, she decided to make "the switch" to a burly Scot.
Just Go With It (2011): Here's where her romances start getting cute. Aniston began dating her now-fiancé Justin Theroux in May of 2011. Things started out slow, with friends' dinner dates and, according to Us Weekly, "hanging out." But at some point, Aniston must have decided to "just go with it," and let herself fall in love.
Burning Love (2012): Ye-ah! Engagement city! We'd say a ring on her finger means that things are heating up for Aniston and Theroux.
On the flip side, Theroux's film titles indicate that he's been the perfect man for Aniston all along. He is just The Ten she was looking for, and their relationship has led to a Happy End to her dating woes. (Not to mention, we're sure the two are enjoying lots of Sex and the City.) 
Let's hope that Aniston's titular parallels end here, though. In 2013 she's releasing a film called Miss You Already…
Follow Abbey Stone on Twitter @abbeystone
[Photo Credit: Getty Images]
More:
Jennifer Aniston and Justin Theroux ENGAGED!
Jennifer Aniston's Dad Approves of Justin Theroux