NYFF 2011: Kirsten Dunst Proves Her Range in 'Melancholia'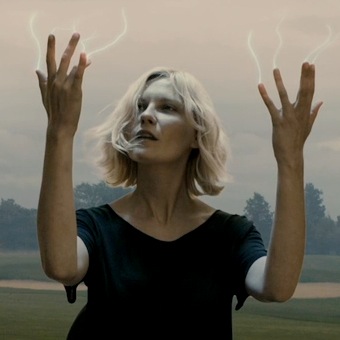 For the next few weeks, we're reporting straight from the New York Film Festival where tons of this year's award-contenders will be debuting. Check back for updates!
Kirsten Dunst is 29 years old. She's been working as an actress for approximately 28.5 of those years.
At least, it feels like it.
Dunst broke out at the age of 12 in 1994's Interview with a Vampire, but her first credits go all the way back to uncredited roles from 1989. The lady's been around for a long time despite her youthful age—but it may have been to her disadvantage. By the time Dunst was hitting the prime of a Hollywood leading lady, her popularity was wavering. The Spider-Man franchise declined, Wimbledon was unimaginative fluff and How to Lose Friends & Alienate People barely registered. By 2008, it felt like we'd seen everything she had to offer.
But after a string of so-so, mainstream movies, Dunst made a smart move: She went weird.
After a brief break from the action, Dunst has emerged unscathed and better than ever in Lars von Trier's (Dancer in the Dark, Antichrist) heavy, sci-fi drama Melancholia. In the film, Dunst plays Justine, a woman tortured by anxiety who watches her wedding day fall apart—one grating moment after another. Justine butts heads with her sister Claire (Charlotte Gainsbourg), future husband (Alexander Skarsgård), brother-in-law (Kiefer Sutherland) and mother (Charlotte Ramping), and, while each character presents her with their own set of problems, the looming presence of the recently discovered planet Melancholia (which is headed straight for Earth) piles on its own heap of tension.
You've never seen this side of Dunst. The movie suffers a bit from not making a whole lot of sense, but it's most effective as a showcase for Dunst mental destruction. In that respect, it's a marvel. I've never been a huge fan of Dunst, mostly because her characters have felt particularly one-note (some of that can be blamed on material). Really, how many times can you play the bubbly, confident, good-looking female lead?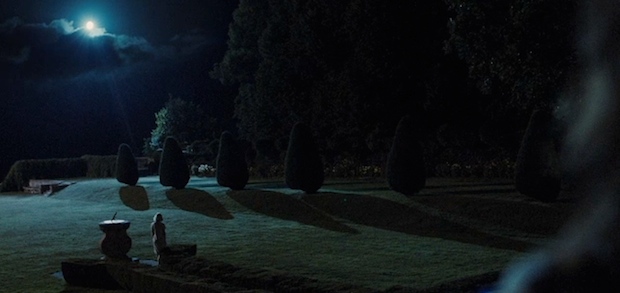 But Melancholia shatters that image—and the actress' past filmography lays on an additional layer of gravity to an already powerful performance. Juliette starts the film as a familiar Dunst character: Charming and cheery, ready to marry the man of her dreams and live a hunky-dory life. But that's when anxiety starts to seep through her veins. Claire scolds her for not enjoying herself or considering how much money was spent on the wedding. She watches, mouth agape, as her mother delivers a wedding speech, condemning her choice of marriage. She takes a mental beating from her boss, who sends his nephew to pester her throughout the night, looking for her inspired new ad campaign quotes. As you can imagine, Justine doesn't handle any of it very well.
As Melancholia progresses, Justine's smiley demeanor cracks, leaving behind a lifeless shell of a human being. Dunst allows herself to be cranked through the emotional meat grinder of von Trier's frightening (and all too familiar) world, devolving from the person we know into a haunting, limp double. Later in the film, after the gaseous blue planet begins its descent in Earth's direction (scientists predict it'll pass right by us—nothing to worry about there!), Claire takes in Justine, now sickly, spaced out and broken. She really let's herself go—in one scene, Dunst hangs naked and limp in Gainsbourg's arms as Claire tries to bathe Justine. In another, she nihilistically deconstructs Claire's worries about the possible end of humanity.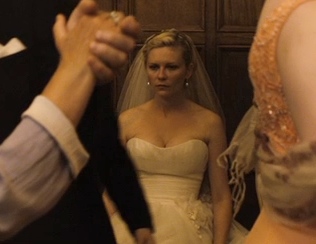 Of course, a dazzling performance is only as good as the co-stars that surround it and Melancholia peppers the scenario with odd characters designed to pull Dunst in different directions. Sutherland's John is the polar opposite of his 24 character Jack Bauer, turning the gruff actor into a good-natured, fatherly type. Gainsbourg (straight off the nuttiness of Antichrist) is a great foil for Dunst, Claire having a similar journey to Justine, but with very different results. Skarsgård's plays Michael, the Justine's loving fiance—a role that doesn't take full advantage of his heartthrob status (or need to).
As a fluid drama, Melancholia never quite clicks, with many of plot's "whys" amounting to nothing more than "because." But as a study of depression and a display of Kirsten Dunst's capabilities as an actress, it's an engrossing success. Watching Dunst in movies like Virgin Suicides, Eternal Sunshine of the Spotless Mind or her recent Ryan Gosling thriller All Good Things, you see the actress' potential. In Melancholia, you see her talents in full motion. If you weren't a fan before, cooled off on the former "it girl," then Melancholia is a must see. There's a reason Dunst took the Best Actress at the 2011 Cannes Film Festival: She had something to prove and prove it she does.
="font-style:>