Seth MacFarlane at the Oscars: Why Ben Affleck Should Be Nervous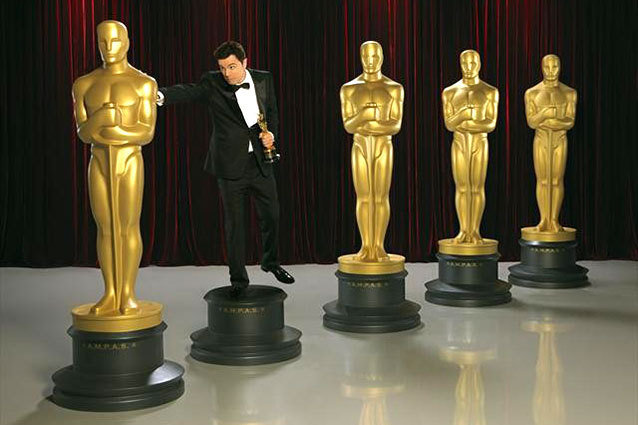 It's almost Oscar Sunday, and if Seth MacFarlane's jokes are anything like his Family Guy quips, there are at least a few A-listers who should be shaking in their fine Italian leather shoes. 
After a quick survey of jokes aimed at Oscar-nominees like Bradley Cooper (Best Actor nominee, Silver Linings Playbook) and Ben Affleck (Best Picture nominee as producer for Argo) from past Family Guy cut-aways, it makes sense that the two handsome stars would be a bit worried about what MacFarlane might come out with at the Oscars. On the show, where MacFarlane has the veil of protection provided by the cartoon medium, his jokes are sometimes petty, hitting stars and pop culture icons far, far below the belt. As part of a TV show, there's enough distance between the subject and reality that the somewhat mean-spirited jokes land relatively safely, but when the man serving up digs is standing before a room of the people he's burning, things could get testy quickly. (Need we remind you of the sheer upheaval of the rich and famous every time Ricky Gervais landed a scathing insult at the Golden Globes?) 
RELATED: Seth MacFarlane Will Be Late (And Drunk) at the Oscars
Here are few reasons some nominees should be a wee bit apprehensive about settling into their Kodak Theater seats on Sunday:
Ben Affleck: Hack Extraordinaire?
According to the cutaways on Family Guy, Affleck's not so much a talent as a guy who sits in his basement drinking beer and skipping off to set without so much as a readthrough of his script. And while we don't have the clip, he's also supposed to have mooched off of Matt Damon for a co-writing credit on Good Will Hunting. So. Funny. You guys. 
RELATED: Watch Seth MacFarlane's 'Psycho' Oscar Video
Bradley Cooper: Basically The Worst Actor/Hot Guy/Famous Person Ever
Cooper's been burned so thoroughly in one swift swoop on Family Guy that he should really be worried. In an encounter with Brian, the know-it all dog who writes terrible books, then-girlfriend Renee Zellweger tries to get Brian to hire Cooper, only to have Brian go on for a whole minute about how not-talented and not-handsome the not-so-beloved "heartthrob" is. Dude, did you see the cold stare he gave the HFPA woman who gave him a compliment at the Globes this year? Maybe MacFarlane is the one who should be worried. 
Sally Field: Really, Guys? Little Ol' Sally Field?
The only mention of Sally Field in the history of Family Guy is a Smokey and the Bandit reference, the entire purpose of which is to bring up the idea that Field is not a "hot piece of ass." Oh, she's only one of the great actresses of our time. But yeah, keep talking about how you don't want to bang her. 
RELATED: What Are Seth MacFarlane's 3 Ds of the Oscars?
Daniel Day-Lewis: Family Guy Does Not Understand You
Daniel Day-Lewis' appearance on Family Guy was as one of Peter's submissions for the Oscars that time he stuffed the ballot box. It could be a commentary on how the Oscars love Day-Lewis, but he gets beat out by "A Red Guy" so the only thing we can really cull from this interlude is that MacFarlane and Co. have no idea what to make fun of Day-Lewis for. Of course, Anne Hathaway can actually take comfort from this clip, because she's the one reading off the list of nominees, so she's basically on the MacFarlane team. 
James Bond: The Rapiest Spy Ever
007 finally gets his due at the Oscars this year with a tribute to his 50 years of cinematic prowess, but it could all come crashing to an awkward, cricket-heavy halt if MacFarlane tells us what he really thinks of the super spy…
Fortunately for many of the nominees, Family Guy's aim at Hollywood stars is rather spotty, so only a few folks have real reason to fear the host for any specific reason, but that doesn't mean he doesn't have a gut-punch at the ready for the unmarked targets too. And of course, there's always the option that he'll keep it clean and go for the broad, crowd pleasing easy jokes, but it couldn't hurt for Oscar nominees to start practicing their poker faces now.
Follow Kelsea on Twitter @KelseaStahler
[Photo Credit: Bob D'Amico/ABC]
---
From Our Partners:


25 Most Scandalous Celeb Twitpics (Vh1)


33 Child Stars: Where Are They Now? (Celebuzz)
---
Oscars 2013 Special Coverage
---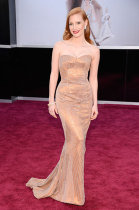 Oscars 2013 Red Carpet Arrivals: PICS!
• Anne Hathaway: Oscar's Worst Dressed?
• 15 Oscar-Winning Nude Scenes
• The Worst Best Picture Winner Ever
• Oscar's Problem With Pretty Boys
• Why Stars Should Fear Seth MacFarlane
• Oscars 2013: The Full Winners List
• The Winner, According to You