'1600 Penn': Inauguration Day for the First Family of Funny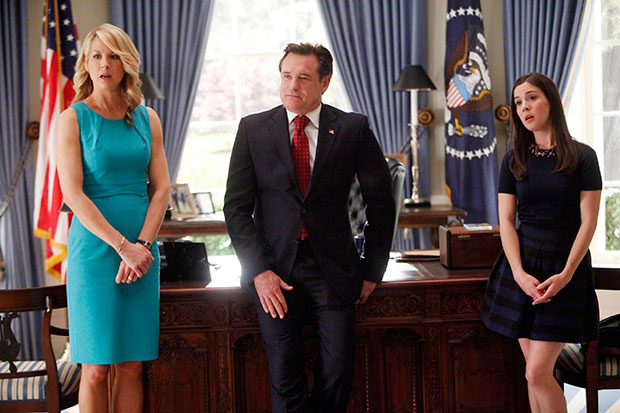 Family comedies: they're seemingly few and far between these days — and with varying levels of quality at every turn. And even fewer still? The number of shows that take a comedic look at the goings-on at the White House. And where a network executive sees a void, a show is created to fill it. Welcome to 1600 Penn, NBC's take on on familial relationships, of the First variety. President Gilchrest and his doting second wife-slash-former-campaign-manager, Emily Nash Gilchrest are the patriarchs of a regular family just tryin' to get by while keeping the free world in tact. Normal, everyday stuff!
Only with this show, it is. There is not a lot of politics to be found in the show — except to serve as a heightening agent for the family's mishaps and adventures. The kids don't have nannies, they have secret service agents. And at the heart of that family is the ne'er do well but means well goofball, Skip. Interested and want to learn more? Of course you do! This show isn't just written by Hollywood types: a Former President Obama speechwriter, Jon Lovett is also a creator and writer on the show. We love a man with credentials.
We'll have a full review up tonight, so hit us up after the premiere to see our thoughts. And read on to learn all you need to know about 1600 Penn. That's an executive order.
Actors You'll Know: There's a bevy of A-Listers setting up shop in 1600 Penn, from Movies' Greatest President Bill Pullman, to Jenna Elfman, and Book of Mormon Broadway star Josh Gad, who also holds a co-creator title with Modern Family's director/producer Jason Winer and aforementioned Lovett. When speaking about the show and its origins, Gad explained to us that the evolution of his and Winer's relationship with Lovett brought the show's foundational points to a new level. "We both knew we wanted to do a show about an ordinary family in extraordinary circumstances, and we felt like we knew how to tell that story … [but] we needed a truism to do that. And when Jon Lovett came on board, it immediately grounded everything."
You'll Like It If: You enjoy the "behind-the-scenes" brand of humor that comes with putting an ordinary family at the heart of the most demanding job in the world. You revel in the way 80s and early 90s-era sitcoms did their work: light-and-airily. You like making puns about the Oval Office. (Elfman's own "Oval Scoff-ice" is one. Fauxval Office, Ovul Office, Oval Orifice, are just a few I made up on the fly. All show-related for your benefit! It's like spoiler puns!)
Top 5 Reasons You Might Want to Watch: 5.) For the off-chance that at some point in the future, Bill Pullman will reenact his epic speech from Independence Day. 4.) Lovable buffoons are totally your bag. 3.) You're in love with all things Obama and want to see his former staffers succeed in a multitude of ways. 2.) You enjoy presidential aesthetics. 1.) You want to see Jenna Elfman playing a really fun FLOTUS.
5 Reasons You Might NOT Want to Watch: 5.) If the term "family-friendly" makes you wish you had veto powers of your own. 4.) You quickly grow weary when a show is fronted by a so-called "lovable buffoon." 3.) Talking about normal life stuff bores you. 2.) Funny and precocious kid actors ruin your day. 1.) You find winter to be your least-favorite time to watch television.
Love it, or Leave it?: Love it if you want to find a show to watch with your whole family, leave it if you think there should be nothing funny about being the most powerful family in the United States. Or if you think making fun of politics is an affront to your country or whatever. Love it in hopes that, seriously guys, one day you are really going to have to recreate Bill Pullman's epic speech from Independence Day from behind that desk. Please?
Will you be tuning into 1600 Penn? Sound off in the comments. Do it for your country!
[Photo Credit: NBC]
Follow Alicia on Twitter @alicialutes
More:
Bill Pullman Gets Presidential (Again) For New NBC Sitcom
Josh Gad, 'Modern Family' Director and Obama Speechwriter Plan NBC Sitcom
A 'Book of Mormon' Star to Write 'Triplets' for Schwarzenegger, DeVito, Murphy

Megan Fox's 12 Hottest Moments (Moviefone)

Ryan Gosling's 'Airbrushed' Abs: Plus 19 More Reasons We Love the Actor (Moviefone)