2012 Emmy Longshots: Great American Tragedy 'Real Housewives of Beverly Hills'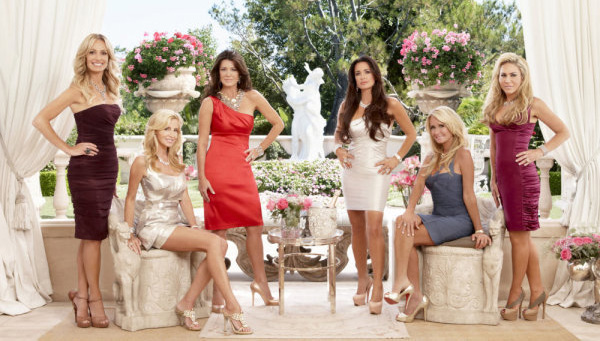 You love them, we love them, and it's high time Emmy recognized them. We're talking about the TV actors, actresses, and shows that have yet to be recognized by the Academy of Television Arts & Sciences, despite drawing us in week in and week out with their awe-inspiring ability to make us laugh, cry, or a weird combination of both. So every day here at Hollywood.com, we're going to be saluting those on the small screen who deserve an Emmy nomination, longshot status be damned. Today, we cast our ballot for The Real Housewives of Beverly Hills.
Whenever any of those people who scoff at "reality TV" like its some sort of doomsday monolith ask me how I can not only tolerate but revel in and make a living from the Real Housewives franchise, I tell them that it is because each set of women is like a great American tragedy. If you view the antics of Jill, Bethenny, Teresa, Vicki, NeNe, and the rest of the screech monkeys like it's something out of an Arthur Miller or Eugene O'Neill play it become infinitely deeper and more amusing than if you just watch a bunch of seemingly wealthy women yell at each other.
My dramaturgical theory on the Housewives was proven again and again by the second season of The Real Housewives of Beverly Hills, which was perhaps the best season of any non-competitive reality show since Capt. Phil Harris died on Deadliest Catch. If it doesn't get nominated for an Emmy than there is something seriously wrong with the world and we can just keep giving feel-good reality shows like The Amazing Race and Intervention the statue for the rest of time and call it quits.
The great thing about RHOBH has always been what the Greeks called the dramatic irony of it. Just like you know that Oedipus slept with his mother and killed his father and will eventually gouge his eyes out with the pins of brooches (how has death by jewelry not been a plot point on one of these shows yet?) we all knew that by the end of season one that Camille Grammer's husband would divorce her. We got to watch the entire first season knowing that villain Camille with her nasty asides and superior attitude would be laid low by the thing that once gave her so much hubris. Season two, it was even worse. We knew by the end of it that Taylor Armstrong would leave her husband and that he would eventually commit suicide. Like any great work of literature, watching these shows isn't about seeing what happens, it's about seeing how it happens.
There was some contention about whether or not Bravo should air this season of the show, considering the tragedy that resulted at the end, but I'm glad it did. Aside from Taylor's reckoning with her husband and the confrontation between her and the rest of the women about her seemingly abusive relationship, there were tons of other great story lines. There was the redemption of St. Camille Grammer who is the only person in human history to restore her tarnished image through reality television. I don't know what alchemy she mastered or what spell she cast, but through a combination of being humble, honest, glamorous, and above it all, she managed to win over nearly all of her detractors.
Then there was the fall of Kyle Richards, a fan favorite who showed her true colors when bullying and hectoring newcomer Brandi Glanville, whose dirty mouth, willingness to fight, and embarrassing forthrightness made her a force to be reckoned with. There was Lisa Vanderpump, the loving matriarch who rolled her eyes at the outlandish opulence of her daughter's wedding while doing anything to make her daughter happy.
But the real reason that I am totally obsessed with Real Housewives of Beverly Hills is Kim Richards, who is basically a modern day Blanche DuBois. She's a former child star who has been disappointed by life again and again and now struggles with loneliness, depression, and substance abuse. There's a scene at a child's birthday party with a rodeo theme where Kim talks about how when she was with Disney she would ride a horse, but the horse would always sit down so that she could get on it and it was so great and easy. Then, later in life, she tried to ride and the horse wouldn't sit down and she couldn't get on and that made her hate horses. That is an encapsulation of Kim's life that plays out day after day, episode after episode until the sad end where she is carted off to rehab to try a life of sobriety once more.
That is why RHOBH is one of the best shows on television. It is like a gorgeous palace that was built on a tar pit and everyone once in awhile, the black ooze starts to bubble up all around it and all the ladies pretend like nothing is happening, like we can't see the inevitable disaster, but it's all there, all their hopes and fears, all their shattering omissions, all their deep dark regrets and bad behavior. It's all right there for us to see, and just like Willie Loman, that other great American tragic figure, demands: attention must be paid.
Follow Brian Moylan on Twitter @BrianJMoylan
More:
Watch 'The Real Housewives of Beverly Hills' Discuss Russell Armstrong's Suicide
'Real Housewives of Beverly Hills' Star Kim Richards Admits She's an Alcoholic
Camille Grammer to Return to 'Real Housewives of Beverly Hills' After All