3 Ways This Maya Rudolph Variety Hour Could Be Awesome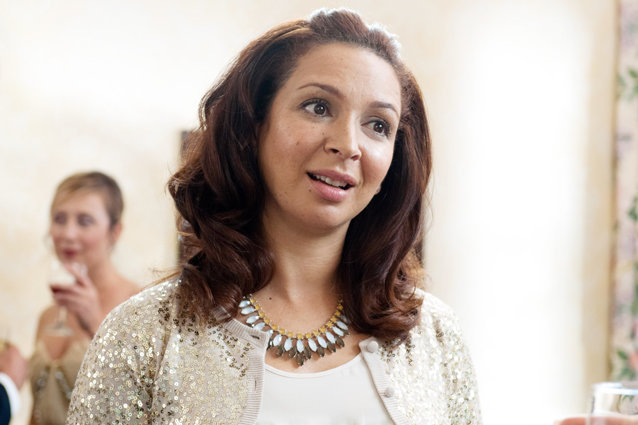 Universal Pictures via Everett Collection
On May 19 at 10 PM, The Maya Rudolph Show will premiere on NBC. After some time out in Hollywood making films like Grown-Ups and Friends with Kids, and a short stint with Up All Night, the Saturday Night Live veteran is returning to the variety show format to bring us a little song, dance, and live sketches. Right now it sounds like The Maya Rudolph Show is a one-time special that could become a series. And if NBC does pick it up for more, there are a few things we hope to see.
As Many Beyoncé Impersonations as Possible
The "Drunk in Love" video has been patiently awaiting a Maya Rudolph/Jay Pharoah remake since their unforgettable SNL skit. And the thought of Rudolph in any of those NSFW Mrs. Carter World Tour costumes is enough reason to tune in.
More Kristen Wiig, Please
Wiig and Rudolph have done so many memorable things together (their skits on SNL, Friends with Kids, and Bridesmaids), so we have every reason to demand a little Wiig cameo or two (even though we also look forward to confirmed guest appearances from Kristen Bell, Andy Samberg, Fred Armisen, Craig Robinson, Sean Hayes, and Chris Parnell). Come to think of it, a Bridesmaids cast reunion moment is long overdue and probably needs to happen as well.
The Maya Rudolph Family Hour
Maya Rudolph has four children with acclaimed director Paul Thomas Anderson, and just once it would be nice to see the whole family together… maybe doing a Sound of Music "Edelweiss" thing? Something tells us that people would definitely tune in to watch a room full of little Rudolph Andersons being extremely adorable and wonderful on stage. If Rudolph thinks this is too much, a nice big family photo shown before the first commercial would also be acceptable. Don't make this weird, Rudolph… we just want to bask in your family's talent!
Follow @Hollywood_com Follow @shannonmhouston