'AHS: Asylum': 10 Things You Need To Know Before The Premiere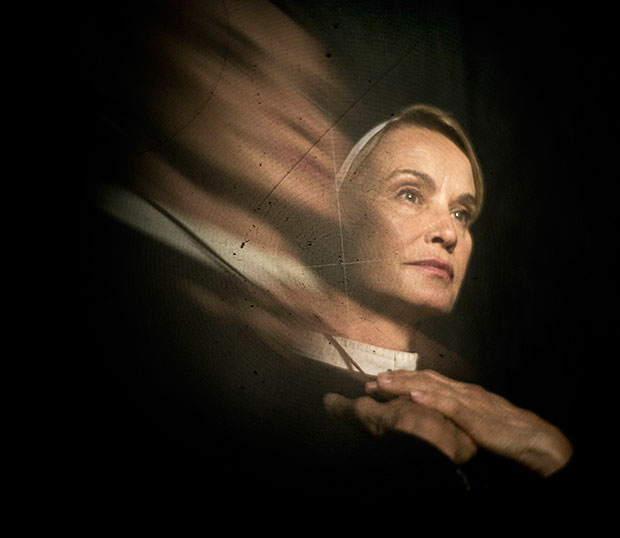 Last season's American Horror Story tackled a haunted house in every sense of the word: We witnessed ghosts, an infantata, and a murderous rubber man terrorize the Harmon family. And this year, it looks like American Horror Story: Asylum is holding nothing back once again.
We've had the scary pleasure of watching the first two episodes of the new season, and Ryan Murphy and Brad Falchuk have set up one crazy story (ahem, no pun intended). AHS: Asylum premieres Wednesday, and to tide you over until then, I've compiled a list of the 10 things you need to know to prepare yourselves for this dark, twisted, no-holds-barred round two — and it goes without saying that this is spoiler-free!
1. Like we have already pointed out after viewing AHS: Asylum's trailers, Jenna Dewan and Adam Levine's newlywed couple are asking for it. Now, what "it" is, I'm not going to say, nor am I going to reveal whether "it" is good or bad. But, boy, do they deserve it. Whatever it is.
2. Bloody Face is an accurate name for the legendary serial killer. And his weapon of choice is quite surprising. Evil things come in small packages.
3. The death chute indeed exists, and dead bodies do disappear… after, of course, serving a purpose as disgusting as it is mysterious. Oh, Ryan Murphy.
4. While promos led us to assume that Jessica Lange's asylum headmistress would be as scandalous and evil as last season's Constance, this time around, she actually serves as a Greek chorus, trying to figure out alongside the audience who is behind the evil in Briarcliff.
5. That's not to say she is entirely innocent either. Sister Jude has committed her own sins in the past, and they will definitely be revealed. Let's just say she's a long way from holy.
6. If you thought last season's ghosts and frankenbaby were crazy, get ready for an out-of-this-world encounter. 
7. Bloody Face isn't the only person to fear in Briarcliff… and Briarcliff isn't the only place to fear Bloody Face.
8. Zachary Quinto's psychiatrist does a complete 180 from his ghostly counterpart in Season 1.
9. Bloody Face may not be responsible for all the murders associated with him. So who is the other monster hiding in plain sight?
10. While there is plenty to fear inside the sanitorium, is it really safer to be outside? There is something moving in the woods surrounding Briarcliff… and a nun is feeding it. And we're not talkin' communion wafers.
Ready to be spooked? Tune into AHS: Asylum, which premieres Wednesday on FX.
Follow Sydney on Twitter @SydneyBucksbaum
[Photo Credit: Frank Ockenfels/FX]
More:
'American Horror Story: Asylum': Watch the First Five Minutes Now!
'American Horror Story: Asylum' Scares Up New Promo — VIDEO
'American Horror Story' Teaser Is Just As Weird As You Thought It Would Be — VIDEO