Alec Baldwin Apologizes to Himself on Behalf of American Airlines on 'SNL'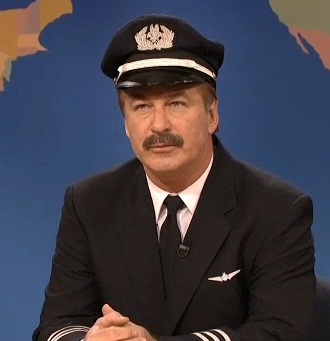 Last week, Alec Baldwin made a pretty significant scene on an American Airlines plane parked on the LAX runway when he was kicked off the plane refused to stop playing Words with Friends on his phone. Baldwin was given the option to stop playing the game or to leave the airplane, which he did, but not before causing quite a stir, allegedly pounding on the walls of the airplane bathroom and slamming the door loudly. Now, this sort of behavior might turn off a few Baldwin fans, but this clip will remind the lot of us of why we love the man to begin with.
On this weekend's Saturday Night Live, Baldwin appeared in (fleeting) character as Steve Rogers, the captain of the plane from which Baldwin was removed. As Rogers, Baldwin delivered a lengthy apology to…Alec Baldwin, stating that he was right about the whole ordeal, and that American Airlines was completely at fault. As you can see, Baldwin's costar in the scene, Seth Meyers, was not totally on board with it…but "the smart hero" Baldwin (his words) kept it going with vigor.