AMC Celebrates 'The Godfather' Trilogy All Week for 40th Anniversary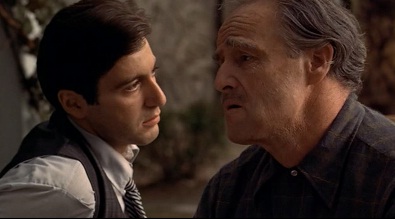 This year marks the 40th anniversary of the release of one film that is widely considered the greatest movie ever made: The Godfather. As such, AMC has taken to dedicating a week to Francis Ford Coppola's magnificent piece of cinema and the two sequels it bore.
Starting tonight, Feb. 27, AMC will kick off "
The Godfather
 40th Anniversary Week," switching off between
The Godfather
and
The Godfather Part II
 Monday, Feb. 27 through Thursday, March 1 and concluding the week with a broadcast of the entire trilogy on March 2.
The full broadcast schedule is included below the video:
Monday, February 27 at 8 p.m. ET/PT – The Godfather
Tuesday, February 28 at 8 p.m. ET/PT – The Godfather Part II
Wednesday, February 29 at 8 p.m. ET/PT – The Godfather
Thursday, March 1 at 8 p.m. ET/PT – The Godfather Part II
Friday, March 2 at 9:30 a.m. ET/PT – The Godfather
Friday, March 2 at 1:30 p.m. ET/PT – The Godfather Part II
Friday, March 2 at 6 p.m. ET/PT – The Godfather Part III