'America's Funniest Home Videos' Celebrates 500 Episodes: Is It Still Relevant?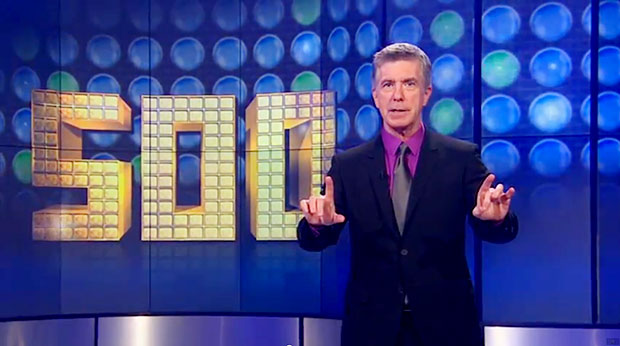 Many people might be shocked to hear America's Funniest Home Videos is still putting out new episodes every Sunday at 7 pm ET/PT on ABC. More people might be shocked to hear that last night saw the monumental 500th episode air, complete with the presentation of the Golden Cup Award in honor of the millionth groin hit. In this day and age of YouTube, viral videos, and the ever-increasing daily/hourly presence of the internet, is there even a need for a show like Tom Bergeron's America's Funniest Home Videos?
To those naysayers, I give a wholeheartedly resounding YES. I dare you to watch an episode of AFV without being reduced into multiple fits of hysterical laughter. It usually takes only about three clips of people taking a tumble in various ways to do me in. I remember watching AFV when I was a kid, and back then, I was all about the animal clips. Whether it was a talking cat, a dog attacking its own leg, or a squirrel taking on a deer, I would be rolling on the floor, clutching my stomach, trying to catch my breath in between bursts of laughter. But like I said before, I've graduated from dumb animals to the wipeouts and screw-ups of adults and kids alike. There's nothing that gets me cracking up quite like people falling down. I know, not very sophisticated of me, but I'm being honest here. Appreciate the honesty, you guys!
A lot of people argue that there is no need for more episodes of AFV. "It's just YouTube!" they say. "The internet has all the viral videos we need!" Lies, I say. Go on YouTube right now and try and sift through the millions and millions of videos people are uploading this very second. Try and find that one comedic gold nugget amidst the piles and piles of nonsense. It takes minutes to upload a video on YouTube, so why not upload hours and hours of whatever you want? That is what thousands of people think on a daily basis. So basically, the internet needs a curator, and that's where AFV finds its purpose.
Just look at the dual successes of AFV copycats Ridiculousness and Tosh.0. Both are viral video clip shows, interspersed with commentary from the shows' hosts. The only difference between these modern-day AFV counterparts and the original AFV itself is just that: modernization. From the big sets, to the younger and cooler hosts, to the clips themselves, Ridiculousness and Tosh.0 are the AFV's for a new generation.
So why do we still need AFV with these younger, popular versions on the air? Because AFV is timeless. Turn on the latest episode, and and it's like you're watching the AFV of your childhood years. It looks the same, it feels the same, and it produces the same amount of laughter. It hasn't aged at all, but it also hasn't changed with time. It's a curious mix, but it works.
And for good measure, I leave you with this:
Follow Sydney on Twitter @SydneyBucksbaum
[Photo Credit: ABC]
More:
HA HA! 'The Simpsons' Mock Their Fox Colleague Karl Rove
'Firefly' Reunion Special: Nathan Fillion on Becoming 'Captain No-Pants' — VIDEO
'The Walking Dead' Recap: Say the Word

Selena Gomez Flies Out of Los Angeles Following Justin Bieber Split (PHOTOS)
(Celebuzz)