'American Idol': Candice Glover Channeled Her Inner Sasha Fierce During 'I (Who Have Nothing)'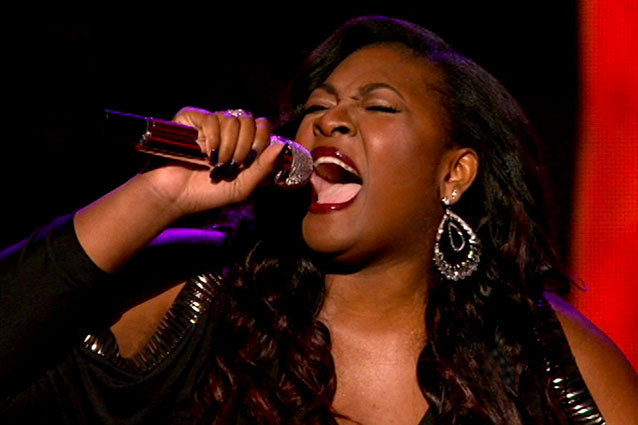 No matter your favorite of the American Idol Season 12 Top 10 finalists, there's no denying Candice Glover slayed her performance of Shirley Bassey's "I (Who Have Nothing)," memorably performed by Jordin Sparks during Season 6.
The judges — who all gave the 23-year-old singer a standing ovation except Mariah Carey, whose skirt was too tight to stand — praised Glover's ability to tune out the very vocal audience. (As someone who watched the show from inside the Idol auditorium at CBS Television City, I can assure you that the crowd went absolutely nuts during her performance — the loudest reaction of the night.)
RELATED: 'American Idol' Recap: Is Candice Glover the New Jordin Sparks?
After the show, Hollywood.com asked Glover her secret to staying so focused. "When you're on stage, you're in the moment, the crowd can really throw you off," Glover says. "I've seen that happen. Back in the day before I became a polished or experienced singer, when anyone would cheer or somebody would scream my name I would stop mid-song. I really had to learn how to get in the zone and just pretend like no one else is there."
Much like Beyonce transforms into Sasha Fierce during performances, Glover says she channels an alter-ego too. "Candi Raquel is what people will call me," she says with a laught. "That attitude. Raquel is my middle name and people call me Candi, so Candi Raquel. Like Sasha Fierce, Candi Raquel. And Candi Raquel doesn't play no games."
RELATED: Why Was Nicki Minaj Late to 'American Idol'?
After receiving such positive criticism from the judges — Randy Jackson told her she'd had the best performance of the season — Glover says she is determined to stay on top. "I feel like consistency is the key and no matter what the theme is next week, I'm going to have to bring it and be better than I was tonight."
Find out who will advance to the Top 9 on Thursday night at 8 PM on Fox.
Follow Jean on Twitter @hijean
[Photo Credit: Fox]
---
You Might Also Like:


14 Movies That Are, Surprisingly, Not Porn


Stars Who Have Lost Roles For Being Too Hot (Celebuzz)