TV Throwback Thursday: 'American Idol' Top 8 Pick Their Favorite 'Idol' Performances Ever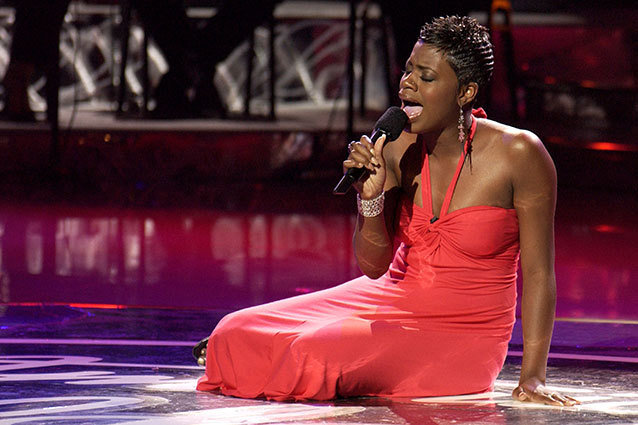 In our quest to bring you the best TV content, sometimes we have to look… backwards. That's why we have Thursday TV Throwback, wherein each week our staff of pop culture enthusiasts — and occasionally some very special guests — will be tasked with bringing back some of the best television clips that have been forgotten by time, space and the general zeitgeist.
This week, the American Idol Season 12 Top 8 share their favorite moments from Idol past. From Fantasia Barrino's "Summertime" to Katharine McPhee's "Somewhere Over the Rainbow," relive these classic Idol moments with the current cast…
Burnell Taylor: "Summertime," Fantasia Barrino
It wasn't like she was pushing for it; it wasn't like she was trying. She sat on the floor and she sang "Summertime" so amazingly, so I feel like that's at the top of the list and should be written on the history books for American Idol. I feel like nobody should touch it. Nobody.
Janelle Arthur: "Somewhere Over the Rainbow," Katharine McPhee
I remember her specifically talking about how her ear monitors did not work so she couldn't hear the key — and she came in on the right key! I was like, hey, she should win the whole thing just because of that.
Devin Velez: "I Believe," Fantasia
It was so much emotion!
RELATED: The Best 'Real World' Housemates Ever

Angie Miller: "Everything," Colton Dixon
When Colton Dixon got voted off and he sang his freaking heart out, that was awesome. He's back tomorrow and I'm so excited. I'm just excited to see him and say thank you because he has said such amazing things about the performance I did of his song, I just want to thank him and I can't wait for that.
Amber Holcomb: "When A Man Loves A Woman," Joshua Ledet
When he sang that high note on that bridge I melted through the TV. That was the best I've seen. That was amazing.
Candice Glover: "I Heard It Through the Grapevine," Casey Abrams
I really love Casey Abrams. He is so jazzy and I take certain things from him. I got to meet him and I was just star struck. He's just think he's one of the most creative people I've ever seen in my whole life so almost all his stuff. He even did "I Heard it Though the Grapevine," which I did, so I really enjoyed that one.
Kree Harrison: "House of the Rising Sun," Haley Reinhart
I love her voice and how it still sounds like Haley if she sings a Motown song or a country song or whatever. It still sounds like Haley so that's what stood out to me always. 
Follow Jean on Twitter @hijean
[Photo Credit: Ray Mickshaw/WireImage]
---
You Might Also Like:


Topanga's Revealing Lingerie Shoot: Hello '90s!


13 Most WTF Fan Tributes