'American Idol' Recap: Top 12 Girls Fall Short of Fantastic Guys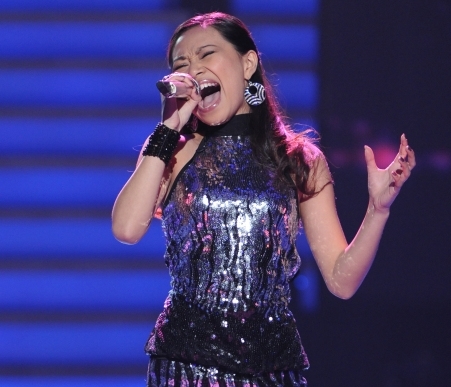 S11E14: After a gruelling night of more viable contestants than we know what to do with, American Idol's top 12 girls night was a stark contrast. With the guys, almost every performance had a hook. Even when a singer, like Eben Franckewitz, proved that he's not quite ready for the competition, he did it without making us regret tuning in. But this evening's offering of ladies' tunes made me wonder if I'd been watching a different show all season and if I could somehow convince the judges to give two of the girls' slots to our guys. That's the problem with the Idol system: we have to see this equal split of genders in the top 13. Instead of sending through the top 13 best possible performers, we send through the best girls and the best guys. It just so happens that this year, the girls aren't the group with the best crop of singers.
But I can't just throw these claims around, so I've prepared some proof. If the fact that two singers chose to perform the same Adele song and the fact that the judges weren't simply singing praises all night isn't proof enough, here are our ladies from the mind-blowing revelations to moments we wish we could un-witness.
Jessica Sanchez "Love You I Do"
For someone who only really sneaked into the competition during group week, Jessica is suddenly a frontrunner. This girl delivered the best song of the night, hands down. She says her voice is sore, but if that's what she sounds like when she's sick, I hope she never gets better. She belongs on that stage. Jennifer praises her use of dynamics and her stage presence – she's performing at an almost professional level. Randy continues on his comparison tirade, calling her a young Beyonce. While I appreciate the sentiment, these comparisons aren't good for the contestants – it's pigeon-holing and pressure all at once.
Shannon Magrane "Go Light Your World"
Here's how great a singer Shannon Magrane is: she picked a song no one knows in a genre outside of the pop music canon and she's still a top performer of the night. To put it simply, her voice is phenomenal for a 16 year old. Jennifer says Shannon feels it in her soul like something terrible happened to her at a young age – though I'd hope that great music isn't only borne of tragedy. Randy is fully on board and Steven spends his allotted time struggling to keep from saying how attractive she is in front of her father…again.
Hollie Cavanaugh "Reflection"
When she started singing, I would never have guessed she'd make into one of my top slots. But I can now say, without a doubt, that she's one of the strongest, most surprising contestants on the show. She started off a little unsure, but as the song built up, she suddenly broke out with a huge voice that we never saw in auditions. The judges all say they want to see her let her hair down – a delicious prospect after as performance like this – but Jennifer goes far enough to say that Hollie could win this thing. It's probably a little early to make these claims, but I'm certainly excited to see what she does next.
Hallie Day "Feeling Good"
When Hallie hit the stage after a few mediocre performances from her peers, she was a bit of a relief. She's got an old soul of a voice and she's a joy to watch – even though she has trouble working the stage and maintaining her strength. And in truth, she's a great singer, but when Steven compared her to Adele I had an almost allergic reaction. Adele is the biggest singer in the world right now, the last thing we need is a slate of copy cats. Even if Hallie turns out to be the next Adele, calling her that would only hurt her.
Elise Testone "One and Only"
I always forget about Elise and when she ended up singing the same song as Jen Hirsh, I feared the worst. First, like I said about little Eben on guys' night: never, ever start with Adele. Why two girls did the same song by an artist no one should cover is beyond me. Good thing for Elise, she delivered the better performance. She makes it her own, taking it into gospel territory – a little more old school than Adele does it. Jennifer says Elise didn't quite hit the notes she could have because her emotions got in the way – but her emotions are what made this rendition work. Randy says it wasn't her best performance, but it was great. They say she's one of the best people in the competition, and I think it's too soon to tell, but she's certainly intriguing.
Skylar Laine "Stay With Me"
I've liked Skylar since the beginning. She's an old school country singer with strong vocals, but her stage presences is a little manic this time around. I love this girl, but the shaking arms and vibrations need to scale back a little. Jennifer says she's what it would be like if "Tina Turner went country." Randy calls her Reba McEntire/Kelly Clarkson/Tina Turner. Once again, the judges are there to help qualify and all they do is compare unique talents to already established singers. Skylar is Skylar – let's not put her in a box from the start.
Erika Van Pelt "What About Love"
While she was a favorite throughout auditions, her first live show was not impressive. She played it so incredibly safe and didn't make use of her character or smokiness. Once again, Randy makes an outrageous comparison, saying she's got an Adele vibe, which, as I've said multiple times in this recap, isn't helping anyone. She's got a strong voice but she didn't really use it, and it could cost her a spot in the competition.
Jen Hirsh "One and Only"
STOP SINGING ADELE SONGS. Jen's rendition of "One and Only" precedes Elise's, but that didn't help her. It's simply not strong, unique, or emotional enough to let us forget what the original sounds like. I simply couldn't stop hearing Adele and comparing Jen's subpar performance to Adele's heart-breaking one. Jennifer loves it and says she let loose – but it's not enough, all I can hear is how she tried and failed to sound like Adele. It's disappointing because in Hollywood, Jen was one who stood out. That original sound is long gone, but if she sticks around maybe she can find it again.
Chelsea Sorrell "Cowboy Casanova"
Chelsea is another contestant I constantly forget, and this song doesn't really help. She lets the Carrie Underwood tune do the work for her and Randy rightfully questions coming out of the gate with Underwood's song. It's true, she floats along with the help of the song and she really doesn't have her own identity. Plus, when we strip away the bounce of the tune, we're just left with a slightly nasally country gal. It's nothing we haven't seen before, and the other options are just so much better.
Brielle Von Hugel "Sitting on the Dock of the Bay"
Brielle has a bit of an issue going into this competition because we watched her turn into a bit of a diva during Hollywood week. Her onstage bravado is tainted by the attitude issues we saw during that tense week, and to boot, she picks a song that dips out of her range and at times reaches to high for her. Steven loves it because he loves everything. But Jennifer and Randy praise her too. They say she's a true performer – she's a ham, but I wouldn't call her a performer. And Randy says she has Janis Joplin swag. They go a little easy on the girl if you ask me, but maybe my judgement is just a little clouded.
Baylie Brown "Amazed"
She doesn't belong in the top 24. Not only is the song a terrible choice, but she alternates between going flat and sharp. But hey, she's gorgeous. The judges rattle off harsh – but not harsh enough – criticisms about everything from her song choice, to her shaky performance, to her lack of oomph. Of course they all manage to tell her how pretty she looks. If her Barbie doll appearance gives her a top 13 slot, I'm going to be a very unhappy camper.
Haley Johnsen "Sweet Dreams"
I'm still not sure what happened here. Haley has no control. She's off key. The song owned her in the worst possible way. Jennifer says she has so much skill and a unique voice, but I have to assume she's pulling that from past performances because this sad rendition held none of those things. Steven says she wasn't perfect, but "who is?" proving his commentary is just a side show. Randy thankfully says it was a bit of a nightmare. Sorry, Haley. I'm going to have to agree whole heartedly with Randy on this one.
Who are your top five? Do you think anyone could win it all? Are you afraid your favorite might be sent home? Let us know in the comments or get at me on Twitter @KelseaStahler