'American Idol' Results: Curtis Finch Jr. 'Shocked' to be First Eliminated Contestant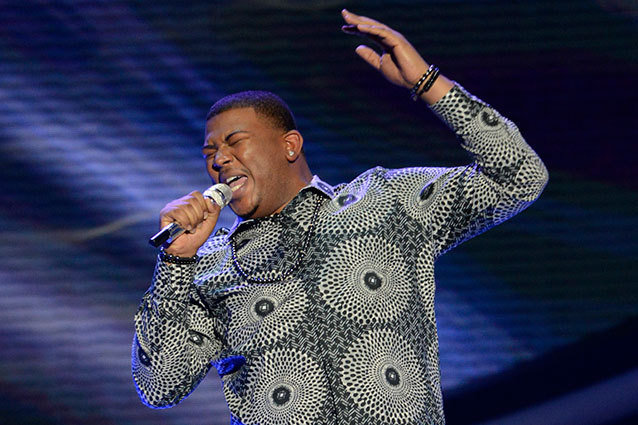 Curtis Finch Jr. is kind of bummed to be the first of the Season 12 Top 10 eliminated from American Idol, but there are no hard feelings. The singer tells Hollywood.com backstage after the show that he's happy with everything he's been able to do on Idol, and he would've been surprised no matter how the elimination went.
"I was already thinking about weeks to come," Finch says. "You always prepare like you'll be there tomorrow. So I was shocked, but I would've been shocked if it was somebody else because the Top 10 for American Idol this [year] has been the best ever."
RELATED: 'American Idol' Recap: The Weirdest Results Show Yet
Although the judges decided not to use their one allotted save on him, Finch says he appreciated Nicki Minaj saying she'd leave the show if he was kicked off — she even went so far as to jump out of her chair in protest — but he didn't want her to actually do it. "That's mind-blowing to me. When she said it I was like 'Whoa, make your coins! Get your check! Stay around, because that will make me tune in.' I have really transitioned from a contestant now to [a viewer], so I want to see her when I turn on American Idol. I'm glad she didn't walk off."
Minaj's almost-protest wasn't the most shocking moment of the show, however. Much like The X Factor, Idol is now ranking the remaining contestants — a fact that came as much of a surprise to the contestants as it did viewers. It's something Finch thinks will motivate the remaining finalists.
"America thinks we know everything and we don't," Finch reveals. "We are living everything along with everybody else. When you see where you rank it really makes you want to work to be consistent [and] stay in the competition."
RELATED: Is Candice Glover the Next Jordin Sparks?
America chose Kree Harrison, Angie Miller, and Candice Glover as its Top 3, and Finch could not think more highly of the three women. "Kree and Angie and Candice have something called 'it'. When they sing they fill the room with such [warmth]," he says. "When Candice was singing you felt the hurt. When Angie was singing you felt it. When Kree was singing it was like 'Oh my goodness. Where do you get this gift from?' I love them and it's well deserved."
Speaking of Candice, Finch says he and the top 3 singer have grown close over their years of auditioning for Idol together, and he saw how broken up she was about his departure. Suffice to say, she did not take the news well. "If we talk about it too long, neither will I," Finch says. "I remember trying out for American Idol last season with her, and I remember us both getting cut in Las Vegas, making the top 70. … I love her so much because she's an incredible gift, just like the other eight contestants that are left. She'll be fine. The tears are going to have to be wiped away tonight so she can kill next week."
Follow Jean on Twitter @hijean
[Photo Credit: Michael Becker/FOX]
---
You Might Also Like:


14 Movies That Are, Surprisingly, Not Porn


Stars Who Have Lost Roles For Being Too Hot (Celebuzz)