'Anger Management' Tries For Sex and Psych Jokes, Fails at Both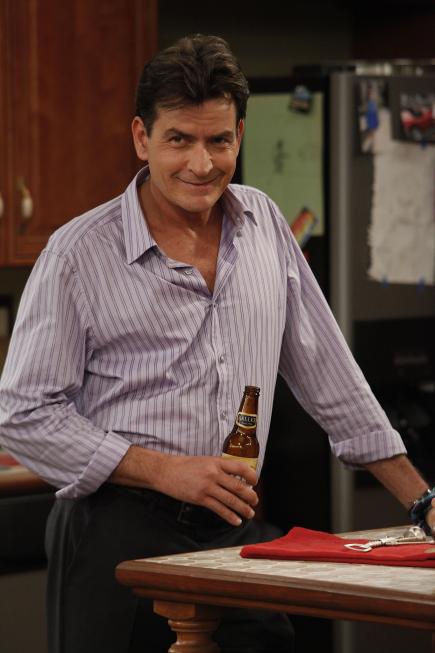 There's a bit of a conflict surrounding the nature of Charlie Sheen's new FX comedy Anger Management. On the one hand, it has a therapist at the center, and colleagues and patients comprising the supporting cast, which ordains some degree of industry-speak and psychology-based plotlines. But nobody is expecting Anger Management to be Frasier. The show is still, at its core, defined by its proclivity for jokes about how Selma Blair's character "seems like" a lesbian, and the vehement repetition of a certain slang term used to indicate a lack of manliness (a term I was surprised that the show was actually allowed to say, even on cable).
But the newest episode of the series, "Charlie Tries Sleep Deprivation," tries to bridge the gap between these two styles of comedy by engaging Sheen's character and his anger management patients in a sleep deprivation session — a setting that opens the doors to a grab bag of psychological jargon, as well as a nearly fatal dose of sex jokes. The mission is not an impossible one. As mentioned, Frasier managed great lengths in both intellectual and slapstick humor, especially in the early seasons. However, Frasier actually seemed to be putting some effort into accomplishing this task. Anger Management, on both counts, is just plain lazy.
The series half-asses its delve into the illustration of Charlie Goodson's therapeutic practice. He'll spout a few verbose terms — I think he said "displaced euphoria" three times in this episode, all productive of the same punchline (someone yelling "Whee!") — and rush through a hasty diagnosis of one of his patients, each time resulting in a wide-eyed, "Oh my God… you're right!" The show isn't supposed to be serious, but it falls so short of taking its subject matter seriously that it raises questions as to why it chose this line of work for its hero in the first place.
And then there's the blue stuff. The silly jokes. Material that, by nature, doesn't need to be be heady or complex to be enjoyable. But that's not a free pass to force in every conceivable cheap shot imaginable. In addition to the aforementioned jokes about Charlie's ex-wife (Becker vet Shawnee Smith) mistaking Charlie's colleague and casual sex partner (Blair) to be gay, which lasts way longer than you might think it could—or should—there is also a bounty of one-off gags, such as Barry Corbin's Ed suggestively playing with a Wii remote underneath a blanket, for no plot-relevant reason other than to provoke Charlie into calling attention to the visual, stirring the studio audience into raucous laughter. And that's just one of a bundle. They're all pretty much on par with that.
It's not only the writers that seem to be bored and lazy; Sheen himself comes off as comatose in the delivery of his character's half-baked dialogue. Some more energy stems from the supporting cast, specifically Corbin and Michael Arden. Unfortunately, neither of their characters really demand any attention, with Corbin playing a curmudgeonly bigot and Arden handling an attention-obsessed, catty gay stereotype. He actually uses the phrase, "Spill it, girl!" to coerce co-group therapy patient Lacey (Noureen DeWulf) into sharing a story, and there is nothing ironic about it.
Maybe Anger Management is just working up to its own discovery of what it is and what it's supposed to be. But if this is the show at its freshest, then I'd hate to see it when it starts to wear down. All in all, there's nothing on this program that you haven't seen a dozen times before, and probably nothing that you wish you could have avoided for those last eleven times.
[Photo Credit: FX]
More:
Charlie Sheen's 'Anger Management' Premiere Sets Ratings Record
Origins of 'Anger Management' : Analyzing Charlie Sheen's Many Onscreen Charlies
'Anger Management' Premiere: It's Charlie Sheen Like You've… Seen Him Before