Barbara Walters May Be Heading Into Retirement — REPORT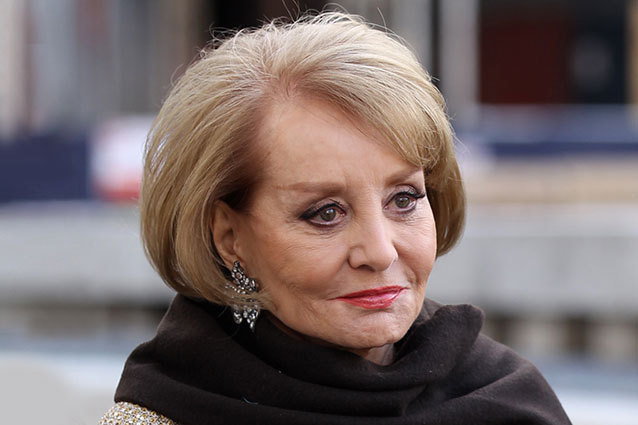 It's been 52 years in the making, but Barbara Walters may be ready to retire. According to a report from Deadline, Walters — a venerable icon of media and inspiration for female journalists everywhere — may be on the heels of announcing her departure from the airwaves, with a date of May 2014 currently being bandied about. Hollywood.com has reached out to a rep for Walters for comment, but had not heard back at the time of publication.
RELATED: Barbara Walters Hospitalized After Fall
The loss of Walters on the small screen will no doubt be a big one, as hers has been a career long considered a gateway for females in television journalism. Her career began in 1962, when she joined the staff of The Today Show as a writer and segment producer of women's interest stories for the NBC morning news program. She later became the first female co-host a news program when she manned the desk at Today starting in 1974, before doing the same as a co-anchor in primetime on ABC Evening News in 1976. Walters also became the face of popular primetime newsmagazine 20/20 for 20 years. In 1997, Walters made her return to daytime as the creator and co-host of The View — to say nothing of all those years spent talking to the year's most fascinating people.
RELATED: Why Barbara Walters Thinks These People are More Fascinating Than You
But Walters' career is one littered with incredible achievements. She has a star on the Hollywood Walk of Fame, has won multiple awards, including Emmy Awards, Lucy Awards, and a GLAAD Excellence in Media award. She was given the comedic nickname of "Baba Wawa" on Saturday Night Live by Gilda Radner — a satirization of the pronunciation of her name, as well as several lifetime achievement awards. To say nothing of the impact she's directly (or indirectly) had on numerous careers.
RELATED: Baba Wawa Has The Chicken Pox. Get Well Soon!
Rumors about Walters' retirement first began in December 2011, when rumors swirled that she told President Obama during an interview break that she was retiring the next year. And with several public health battles on record as of late — she recently had a large fall in DC, as well as a hospitalization for chicken pox earlier in the year — which only added fuel to the flames of retirement talk. If talk of Walters' retirement are confirmed, this would be the second blow to The View in recent weeks, as it was recently announced that the only remaining original panelist (besides Walters), Joy Behar would be leavivng this summer.
Follow Alicia on Twitter @alicialutes
[Photo Credit: Christopher Peterson/FilmMagic]
---
You Might Also Like:


Topanga's Revealing Lingerie Shoot: Hello '90s!


13 Most WTF Fan Tributes