'Beauty and the Beast' Star Sendhil Ramamurthy on His Beastly Twist: 'I Had No Idea!'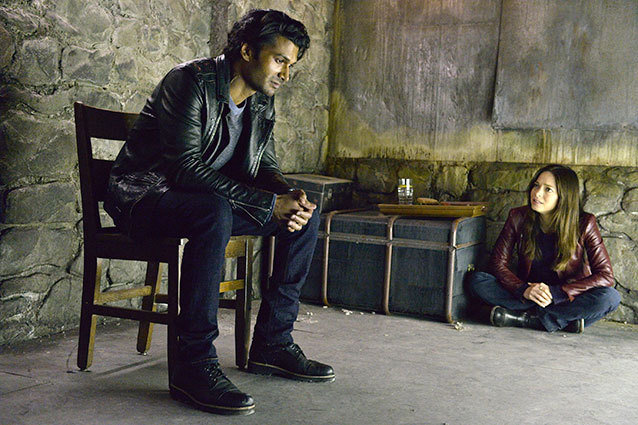 Looks like Assistant District Attorney Gabe Lowen (Sendhil Ramamurthy) has a few more skeletons in his closet than he revealed to Catherine (Kristin Kreuk). At the end of last week's Beauty and the Beast, Gabe was excited to learn that the vigilante killer was still alive and out there… and his excitement caused his eyes to glow a telling gold – just like Vincent's (Jay Ryan) when he beasts out!
The reveal of Gabe's true past was shocking, both to viewers and Ramamurthy himself. "When I signed up for the show I had no idea that Gabe was a beast. Everybody else did, though!" Ramamurthy tells Hollywood.com. "The entire cast knew, but when I turned up on set, Kristin was the one who told me inadvertently. She was like, 'I wonder when Gabe Beast shows up?' I was like, 'What?' And she was like, 'They're making you a beast! You know that right?'"
Ramamurthy may not have known in the beginning, but he's excited for fans to be in on the secret now — especially since there are still plenty more secrets to reveal. "By the end of this episode you'll find out what the circumstances are surrounding what he has to do," Ramamurthy teases. "We've established that he's slowly deteriorating and dying, basically. He thinks that Vincent can help him in some way and he's either going to be a friend or a foe."
Finding the vigilante has always been Gabe's motivation, and though we previously assumed it was because he wanted to find justice, we now know the real reason why Gabe was hunting Vincent. "That's why he shows up at the precinct in the first place. The whole reason he ended up getting transferred there was because he wanted to be in that precinct where all of these vigilante murders were happening," Ramamurthy explains. "It's his instinct that they're being done by another beast. But Vincent thinks that he's the only one up until this episode. The moment where they meet, Gabe is a beast and Vincent is human. So it's a huge moment for Vincent to see Gabe like that because he really didn't think that there was anybody else out there like him."
Besides the fact that they share the same beastly nature thanks to Muirfield, what exactly does Gabe want with Vincent? "That's what the next episode is all about: I'll scratch your back if you scratch mine. We don't have to be enemies," Ramamurthy reveals. "In a perfect world, Gabe would love for this to happen: he finds Vincent and they find a way to stabilize each other's DNA. We've established that Gabe can take these pills that keep him normal, so maybe Vincent can take the pills too, or so that's what Cat hopes."
When Catherine finds out Gabe has a way to live a normal life despite his beastliness, it gives her hope for her future with Vincent… especially considering the romantic issues they run into in "Date Night." Without spoiling the episode, let's just say that Cat finds herself in a normal situation that happens in normal relationships, but thanks to Vincent's condition, it has dire consequences. Gabe represents a possible solution to her problems. "Maybe they can have this normal life that they've dreamt about," Ramamurthy says. "Catherine and Vincent sailing off into the sunset and being happy and together as two human beings, not a beast and a human being. Let's see if that actually happens."
Another storyline Ramamurthy is excited for fans to see play out is that of Gabe's mysterious girlfriend, Tyler (One Tree Hill's Shantel VanSanten). "Gabe has been experimented on since he was a child. He knows that other people have been experimented on, and his own girlfriend is one of the experiments," Ramamurthy reveals. "You get some nice tidbits in this episode and in the finale about Tyler. People will come to know about her. People will meet her. Our regular characters, some of them will meet her. And there's some pretty cool stuff that happens in respect to that."
Beauty and the Beast airs Thursdays at 9 PM ET/PT on The CW.
Follow Sydney on Twitter: @SydneyBucksbaum
More:
'Beauty and the Beast' Executive Producer Reveals Shocking Finale Twist
'Beauty and the Beast' Star Promises Resolution to Adrenaline-Fueled Cliffhanger
Sendhil Ramamurthy's 'Beauty and the Beast' Debut 'Ruffles a Lot of Feathers' 
---
From Our Partners:


Watch Justin Bieber Attacked in Dubai (Celebuzz)


33 Child Stars: Where Are They Now? (Celebuzz)