'Boardwalk Empire' Recap: A Family Affair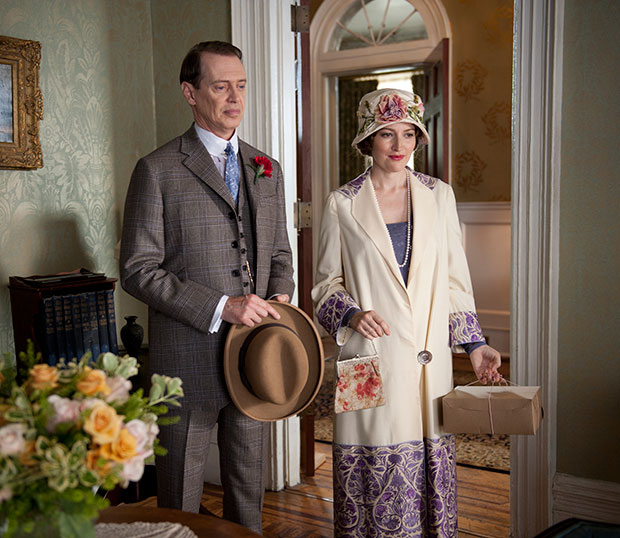 As is the case with most television series, Boardwalk Empire seems to deliver episodes of especial quality when all of the storylines within are linked over a common theme. On this week's installment of the HBO program, all featured characters celebrate — in highly disparate ways — Easter Sunday. As you'd imagine from Boardwalk Empire, many of these endeavors don't exactly go off without some exhibition of hostility, violence, and in one case, even murder, with provocations ranging from politics, to business, to personal matters, to whatever mysterious psychosis has a hold of the twisted Gillian Darmody. But every one of these vile transpirations is rooted in the emotionally erratic foundation that makes itself a fixture of holidays like Easter: family.
The Thompson Family Reunion
Featured foremost on the episode is the unlikely union of the households of Nucky Thompson and his brother Eli. After the more-than-your-average-sibling-rivalry that took place between the pair last season, we have seen Nucky and Eli begin to mend their relationship through recent episodes. So far, this has largely taken place in a professional forum. But on this episode, Nucky brings Margaret, Teddy, and Emily over to Eli's home for them to finally his wife and eight children.
What takes place is largely pleasant: a home cooked meal, an Easter egg hunt for the kids, and some wholesome entertainment delivered by the family members: a charming, comical Nucky (the sort of Nucky we met early on in the show's run) offers a pun-infused comedy routine, and Margaret sings a joyful song. But behind closed doors, the adults are eager to share their discontent.
Eli addresses the maintained distance between them, growing hysterical and accusing Nucky of his eventual murder. Meanwhile, Margaret attempts to confide in Eli's wife regarding her slew of reasons to be unhappy with her marriage. While the former conversation amounts to some good — Nucky decides to throw Eli a bone and promotes him in the scheme of their business (he is now Mickey Doyle's level partner in running the warehouse) — Margaret receives little condolence from the frazzled June Thompson, who seems to have managed a long, happy marriage to Eli by keeping herself in the dark regarding his professional life. But as Margaret asserts to Nucky at the end of the episode, it's too late for them. She can never be happy with him again.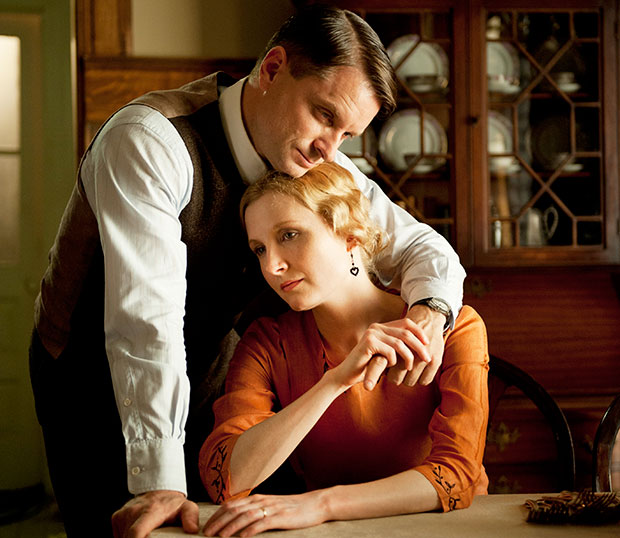 Richard Comes to Dinner
Prompted by an ostensibly ailing Gillian to leave the house (and to send all the girls and employees away as well), Richard takes young Tommy to Easter dinner over at the home of the Sagorskis — Paul, the older fellow to whom he tended following a spat among the war veterans on last week's episode and said gentleman's attentive, if not frustrated, daughter Julia. Richard and Tommy join the Sagorskis and three neighbors in a hostile feast, prompted by the patriarch's alcohol-induced angry exclamations, political tangents, and jabs at every one of his dinner guests. After Tommy wanders into the obsessively preserved room of Paul's deceased son, the man grabs him in anger and loudly announces his issue with this outrage, only to settle down and lock himself in the room after being calmly threatened by Richard.
Afterwards, Richard takes Tommy and Julia for a walk through a fair — he has clearly earned the young woman's affection, although she does confront him with the fact that she is unsure how to behave and speak around him, considering his condition. Richard, pure of heart, assures her that she can say whatever she feels to him. He is seen cherishing her as he did with Angela, and as he did (we assume) with his sister beforehand. But her dad should foster a problem for these two down the line.
Gillian and Her Guest
While Richard and Tommy are away, Gillian has her own guest: the Jimmyesque fellow she met a week back. However, her intentions this time are even more dark and dreadful than anticipated. We know that Gillian took to the young man due to his likeness to her son, so we can assume that her insistence on bathing him is just another manifestation of her perverse approach of the role of motherhood as a sexual relationship. But she catches us all off guard when she injects the guy with heroin while he's relaxing in the bath, and then intentionally drowns him. It seems as though she has done this in some ill-conceived effort to overcome her son's death, emotionally… but who can really identify the rationale behind any of this woman's choices?
Rosetti's Godly Troubles
Finally, the Easter Sunday of Gyp Rosetti, whose family life is just as hotheaded and violent as his business life. After a business meeting gone unsatisfactory and a dinner less than joyful, Gyp goes so far as to beat up a priest and rob a church — not before a long, self-absorbed, profanity-laden tirade against God and Jesus for denying him everything he wants — so that he might pay off his colleague Joe Masseria. Although Joe is at first apprehensive about keeping Gyp on his team, Rosetti's declarations about the ominous rise of the likes of Arnold Rothstein and Nucky Thompson seem to ring true to Joe — Rosetti wants them all dead, and Masseria doesn't seem to think this is such a bad plan. So is that what we'll be seeing in the coming weeks?
[Photo Credit: HBO]
More:
'Mockingbird Lane' Pilot React: A Halloween Special Not So Special
'Star Wars: The Clone Wars' Recap: Onderon Strikes Back
'Fringe' Recap: The Bullet That Saved the World
From Our Partners:

'Bring It On' Star Struck By Car and Killed
(Celebuzz)

Kardashians Share Scary-Cute Childhood Halloween Pics
(Celebuzz)