Better Call Saul: Bob Odenkirk May Get 'Breaking Bad' Spin-Off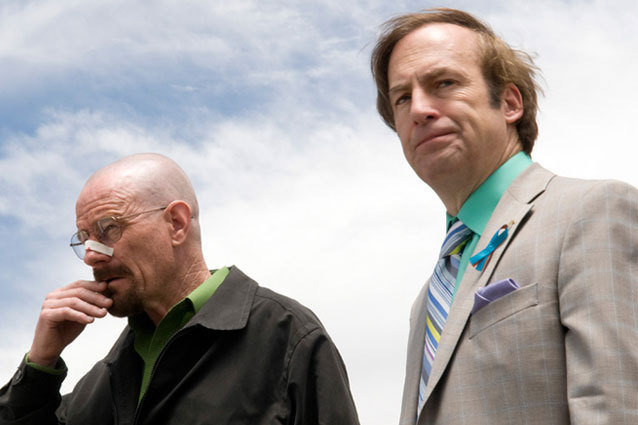 It's all fun and games until Heisenberg ends up in prison. But it's all good, man, because Saul Goodman is on the case. And, as it turns out, this case seems to be all about the Breaking Bad lawyer: namely, there's a rumor that Bob Odenkirk may be getting his own spin-off comedy series based on his kooky character. Something tells me that Walt isn't going to like this.
But, really? A comedy on AMC? Color us surprised! The network that brought you Mad Men, Breaking Bad, The Killing, and The Walking Dead certainly knows drama — so much so that it seems hard to imagine a series with a ha-ha bent making any headway on its channel. But just because AMC has long lacked a c0medy doesn't mean it shouldn't at least try. Certainly death, drugs, sadness, and the general malaise of human existence are much more the network's territory, but there's a lot of humor to be found in all of that. In fact, done well, a comedy on AMC could be just the stepping stone the network needs to round out its current programming roster. And goodness knows it never hurts to introduce a new audience to the character-driven, well-developed voice for which the network has made itself known. No such thing as too much good TV, my best friend The Couch and I always say!
Plus, there's no better character to attempt a chuckle-worthy series with than Saul Goodman. The sleazy-yet-adept criminal lawyer has long-served as comic relief for Bad, and no doubt his penchant for over-the-top TV commercials will fare him well on the show's publicity front. Deadline reports that the potential spin-off is being eyed for either a one-hour or half-hour format. Hollywood.com has reached out for comment, but did not hear back at the time of publication.
What do you think of the news? Are you ready to LWYRUP with Saul?

Follow @alicialutes on Twitter
MORE:
Walt Jr. from 'Breaking Bad"s Weird, Sexy Photo Shoot
TV Criminal Bryan Cranston's 'Breaking Bad' Script Stolen By Actual Criminal
Bryan Cranston's Worlds Collide in New 'Breaking Bad' Casting
---
From Our Partners


Jessica Alba Bikinis in St. Barts (Celebuzz)


Pics of The Rock Making Things Look Small (Vulture)