New Bravo Show Insults Doctors, Women, and Wives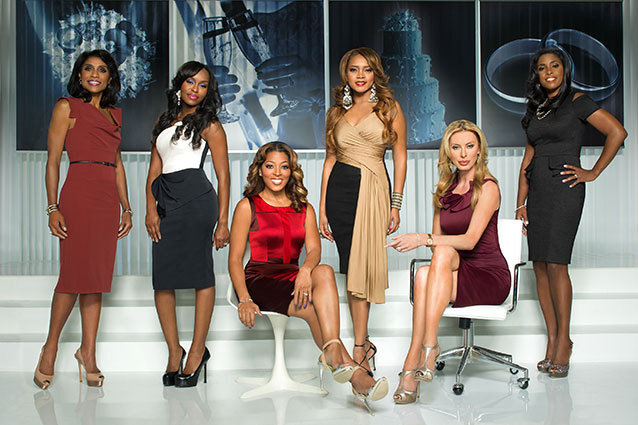 Everyone ridicules that old TV commercial where a soap actor proclaims, "I'm not a doctor, but I play one on TV," before giving us medical advice on what cough syrup to buy. Now Bravo is bringing us an equally ludicrous line, "I'm not a doctor, but I married one on TV."
That's the premise behind their new show Married to Medicine, an Atlanta-based reality series that tracks a bunch of (mostly African-American) women who are somehow related to the medical industry. My problem isn't with doctor's wives or a show about them — that's no more or less ridiculous than a show about the wives and girlfriends of sports stars, mob bosses, or some other profession that involves a lot of public interest, big personalities, and gigantic amounts of money. No, it's that the cast combines two real actual doctors with medical degrees on their wall with four women who are married to doctors as if it's the same thing.
RELATED: Dear Bravo, It's Time to Make LeAnn Rimes a Real Housewife
I'm sorry, Bravo, but it is not. Dr. Simone Whitmore and Dr. Jacqueline Walters — both of whom are OBGYNs — are women who spent nearly a decade of their lives going through very complicated training, studying hard, and accruing hundreds of thousands of dollars in debt so that they could take a job that is, yes, financially lucrative but also helps people stay safe and healthy and avoid cancer and have healthy babies. The other four women in the cast, well, they're just the lucky broads who managed to land themselves a doctor. To utter them in the same breath makes the world (and especially women) think that they don't have to bother with Biology class as long as they have the right anatomy to attract the right man. 
The cast was announced in The Hollywood Reporter and it includes Toya Bush-Harris, who helps run her husband's "medical concierge" business; Mariah Huq, the CEO of Mariah Media Group which is some sort of branding and marketing company; Quad Lunceford-Webb, who appears to be gainfully unemployed; and Kari Wells, a Brit who owns a production company and runs her husbands "medical realty" company.
RELATED: 'Real Housewives of Atlanta' Recap: Kenya Moore Does Not Have Cancer
Wow, they all sound very accomplished. But do you know what they're not? Doctors! They're basically just the same old layabouts as the Real Housewives of Every County, USA. And that's fine. I love a Housewife. But how great would it be to have a show about professional women who are trying to make it as doctors and raise kids and deal with a family and "have it all?" Wouldn't that be a good show? Wouldn't you watch that? I would. Wouldn't that be wonderful and empowering and interesting and say something new about women who worked long and hard in a male dominated field? I think it would. But instead we just get another fighting and screaming show about women lucky enough to have a husband who will buy her furs.
It's even worse that the cast is doctors and women who married doctors, as if the work is equivalent, as if their character is equavalent. It is not. This does a disservice to doctors, wives of doctors, and women in general. One of the cast members says in the show's trailer (which is below), "We take an oath, we want to do no harm." No, you and another doctor took the oath. The rest of these ladies, well, they'll do as much harm as they like.
Follow Brian Moylan on Twitter @BrianJMoylan
[Photo Credit: Derek Blanks/Bravo]
---
From Our Partners:

Kate Upton Bares All in Nothing But Body Paint: Video (Celebuzz)

Bradley Cooper Dancing Is Surprisingly Awkward (Vh1)