'Breaking Bad' Pulls in Record Viewers, Possibly With "Magnets, Bitch!"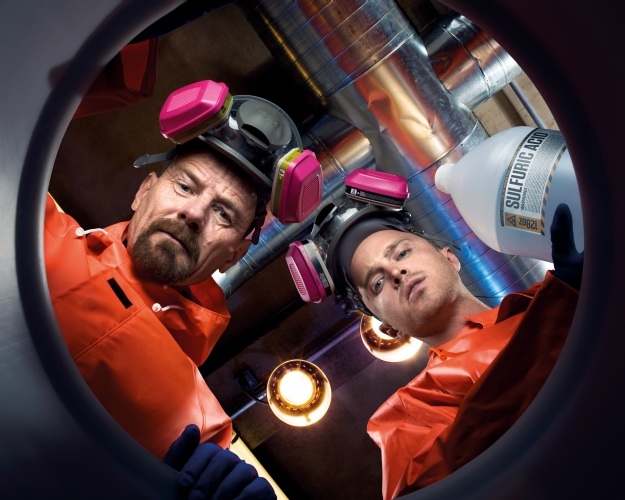 On Sunday, 2.9 million people ended their weekend the best way possible. If we want to get more specific, on Sunday, 2.9 million people ended their weekend with Walter F**kin' White, man. According to TVByTheNumbers, the Season 5 premiere of AMC's so-great-it's-kinda-hard-to-wrap-your-head-around-it drama Breaking Bad had its most-watched episode to date. Even with the Dish network squabble that left many fans AMC-less (in turn, the network mercifully offered to stream the premiere online for subscribers left in the dark), the show still pulled in staggering ratings. 
To get technical here, "From 10pm – 11pm, the network earned a 2.2 HH rating delivering 2.9 million viewers. This marks an increase of +22%/ +14% respectively. Even more impressive is the exceptional growth among the coveted 18-49 demo, which saw a +34% increase versus last season's premiere." To put it in the simplest terms, Breaking Bad, like its fellow AMC darling Mad Men, gradually earned ratings hikes as they went thanks to strong word of mouth. Interestingly enough, Mad Men also saw their best ratings yet during their fifth season opener back in March when they drew in an even more amazing 3.5 million viewers after their 18-month hiatus from the air. 
If there's any testament to the power of DVD marathoning or catching up online (your move, Hulu) these shows are the proof of that. While a heavier show like Breaking Bad or Mad Men may not have staggering viewership right out off the gate, what they do have are avid fans dedicated not only to watching the show, but getting the word out about it. It's easy to understand the hesitance from networks to hope a show takes off two or three seasons in, but a solid fan base can keep a show with respectable numbers. Strong word-of-mouth, loaned DVD box sets, and the glory of Netflix streaming can catapult it to can't-miss-programming.  
And with certain programs, this sort of viewing actually makes the most sense. Watching the first two or three seasons of Breaking Bad or Mad Men feel like they should be watched alone, to take in everything that's going on and form your own connection to the show and the characters. As they go on, all you want to do is share that bond with everyone else who has a connection to it and talk about it as much as possible afterwards. (No talking during, for that is a television cardinal sin.) Mad Men and Breaking Bad may be slow burns, but they're quality appointment television and they're miles ahead in the race.
[Photo credit: AMC]