'Catfish' Reunion Show Recap: Who's Still Together? Who's Still Lying?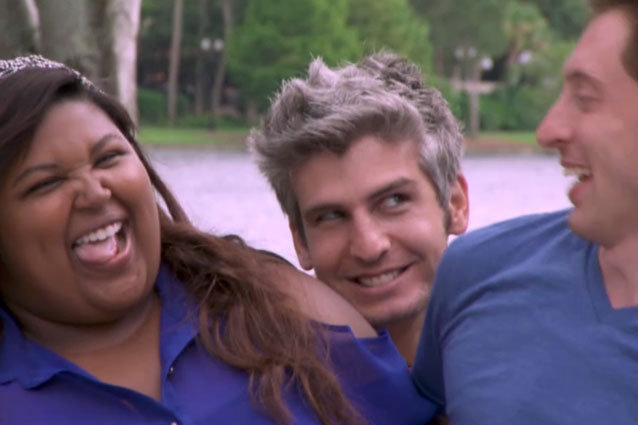 Catfish: The Reunion Show host SuChin Pak got to the hard stuff right off the bat when MTV rounded up the subjects and hosts from your favorite addicting reality series about online relationships for an update following the Season 1 finale.
Her very first question for everyone's favorite BFFs/Internet dating experts Nev Schulman and Max Joseph: Are you guys a couple? Nev and Max, always game to poke fun at their own expense, copped to their coupledom, but not in the way you wanted. They're a couple of filmmakers. Get it?!
They also chatted about Manti Te'o and the Saturday Night Live spoof of their show (not enough chest hair, say Nev and Max) before getting to the good stuff: catching up with our favorite couples and seeing what happened after they met face to face.
RELATED: Is 'Catfish' Catfishing America?

Let's go through them one by one:
Sunny and Chelsea: These two sat very far away from each other, and though Chelsea looked noticeably happier and more comfortable in her skin, Sunny seemed just as angry as she was when she finally met "Jamison" face to face. Over the year and a half since their episode was filmed, Chelsea became comfortable with her sexuality and started working with bullied kids online, while Sunny got made fun of by her sister and seemed to hold a grudge.
Jasmine and Mhissy: The animosity between the girls was palpable. Not only did they sit far away from each other, Nev and Max acted as human barriers between them. Jasmine was still clearly extremely upset at the situation, and said a proper apology from Mhissy wouldn't change anything. Things got so heated that Max, ever the voice of reason, had to step in with a "Mhissy, chill out." As exciting as it was to see them reunited, it's clear Jasmine and Mhissy should never be in the same room together again.
RELATED: Why 'Catfish' is the New 'Jersey Shore' (Thanks to Manti Te'o)
Trina and Lee: In a somewhat happy ending, Trina and Lee have remained friends and speak every now and then — not every day like they once did, though. MTV got the real Scorpio on the phone to flirt with Trina before she told everyone that she's filming her own reality show for all her "fans" to see what her life is like. She was engaging, but does she really have so many fans? It's unclear what the reality show will document or what it's for, but there you go.
Joe and Rose: This was one of the craziest stories, and it's clear there's more to it than what we've seen. Rose revealed that she was actually catfished herself when she was younger, and was angry that Joe came off as a country bumpkin on the show when she insisted he wasn't. She didn't elaborate any further, though, only angrily informed everyone that Joe was arrested after filming, although for something unrelated to Catfish.
Matt and Kim: Thankfully, we ended on a happy note. Matt and Kim are still BFFs who talk daily, and they're both in committed romantic relationships … with other people. Matt has lost 200 pounds since the show. At least we had one legitimately happy ending!
RELATED: 'Catfish' Season 1 Finale Recap
James and Rico caught up with Nev and Max via Skype to crush our hearts and tell us that they're not dating anymore. They're still really good friends, though, and talk frequently — even about the dudes they are dating. Hooray? Jarrod and Melissa also did a Skype check-in, and informed us that they're still friends too. It was kind of heartwarming, really, to hear them talk about their friendship. Bonus: Jarrod's band is getting way more gigs because of the Catfish thing.
Noticeably absent: Kaya and Dani, Rod and Ebony, and to a lesser extent, Tyler and Aaron and Mike and Felicia. Why weren't they there, or at least why didn't they Skype in? Kaya and Dani had one of the first legitimately shocking episodes that ended better than anyone could've expected. It would've been nice to know if they're still together, or at least friends.
What did you think of the Catfish reunion? Will you tune in for Season 2? Are you surprised that some people are still friends and some aren't?
Follow Jean on Twitter @hijean
[PHOTO CREDIT: MTV]
---
From Our Partners:


25 Most Scandalous Celeb Twitpics (Vh1)


33 Child Stars: Where Are They Now? (Celebuzz)