'Community' Plays the 'Hunger Games'! (Katniss Ever-Dean, Anyone?) — CLIP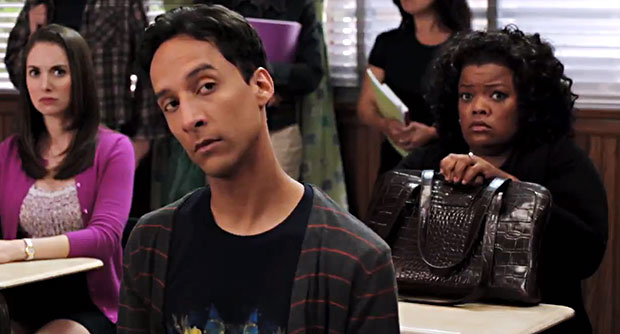 October 19th is only a few short weeks away, transpiring this year on February 4. Community's fourth season, right around the corner after an impossibly trying hiatus, might have a lot working against it — the absence of creator Dan Harmon and writer Megan Ganz, and a charge to live up to the fantastic would-be series finale that capped off Season 3. But from the looks of the below clip, we'll be in no small supply of the oddball humor that has kept us going since that first fateful day in the dimly lit study room.
Employing its film parody bread and butter, the below clip from Community's upcoming season jumps right into an absurd, plausibly contextually unnecessary, but nonetheless sure-as-shootin' delightful Hunger Games parody. When Dean Pelton is overtaken by an administrative dilemma that could and should be solved by paperwork or disciplinary measures, this Craigular Joe instead recreates his campus as a battle royale obstacle course, forcing his student body to delve into the "Hunger Deans." But the description doesn't really do it justice… check out the clip below.
[Photo Credit: NBC]
More:
NBC Boss Optimistic About the Future of 'Community'
Cast of 'Community' Hold Adorable Kittens Because: Internet — VIDEO
'Community' Season 4: The Year of Lasers and Unicorn Men! (So, Toning It Down?) — PICS

Megan Fox's 12 Hottest Moments (Moviefone)

Ryan Gosling's 'Airbrushed' Abs: Plus 19 More Reasons We Love the Actor (Moviefone)