'Dancing' Backstage With Louis van Amstel: 'I'm Scared to Death' — EXCLUSIVE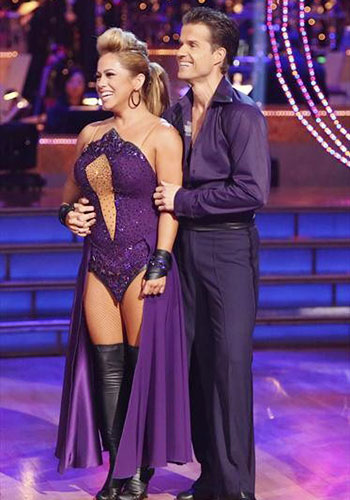 "I am scared to death," says pro dancer Louis Van Amstel heading into Tuesday's elimination round on Dancing with the Stars. He and his partner, all-star Sabrina Bryan, were in danger during last week's elimination, and despite a performance that wowed the judges, the All-Star season offers some tough choices for viewers. It's something van Amstel is very aware of.
"The scores were not bad, they were good, but of course everyone else who went after us had better scores, so that actually puts you in the middle of the pack," he says. Still, Bryan and van Amstel delivered a lively disco routine that had the crowd dancing right along with them. "The crowd was going nuts," he says. "It was fun, so hopefully the people at home picked up the phone."
And the routine wasn't just a cake walk. These dancers are working hard. Bryan's routine had four lifts, which is an admirable feat. "Out of the four lifts, two of them, particularly, were not very easy and they worked … I really feel [Sabrina] couldn't have done anything different and I wouldn't have done anything different," says van Amstel.
Van Amstel – who says he "has a feeling" about tonight's elimination without jinxing himself by telling us what that feeling is – hopes the audience starts to pay a little more attention to what's happening below everyone's shoulders. (For once, we won't lecture you with some sort of "my eyes are up here" comment.) "You see some great dancers leave the competition, so what I'm hoping is that from now on, people are going to look at the dancing, not just personality," he says.