'Dancing With the Stars: All-Stars' Finale Recap: Here's to the Underdogs!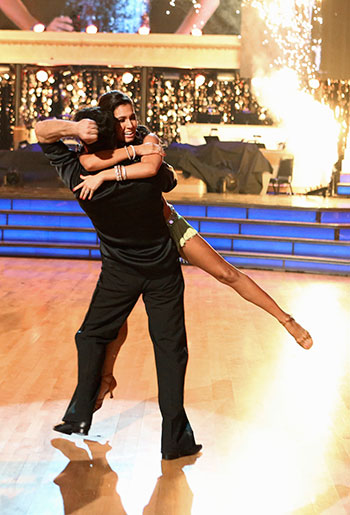 The end is here. Finally. After 10 weeks of anxiety and drama and watching celebrities make fools of themselves, it all came down to tonight's Dancing With the Stars finale. And what a finale it was. Between the instant dance competition, "DanceCenter," and Bristol Palin and Pamela Anderson's brief but glorious comebacks, it was definitely one for the books.
Did anyone else notice how upset Len looked during DanceCenter? He barely looked at the camera, and when he did, he looked more ashamed than if Kirstie Alley had taken home the Mirror Ball.
Obviously, to take up extra time on The Show That Never Ends, all the old dancers came back for one last hurrah. Most of the performances were forgettable at best, although it was nice to rehash the season of competitors. Did anyone else forget about Drew Lachey (and his guyliner)? Because I totally did.
And dear people of the Internet, can someone please make me a gif of Joey Fatone's jiggly tummy from his "Gangnam Style" solo? I've never seen something so perfect in my whole entire life. And actually, a gif of him in the DWTS DeLorean would be great too.
Kelly and Sweaty Val (seriously, did someone oil him up backstage?) were the first to choose their instant dance. They wound up with a "Cat & Mouse" jive, aka another opportunity for the lovebirds to shamelessly flirt onstage. I was just sad they didn't come clean about their love affair — I was looking forward to that more than the actual outcome of the show. But how adorable is Val? He's so obsessed with Kelly he couldn't even take his eyes off her during the post-dance interviews. Ugh. Be my boyfriend?
Carrie Ann: 9.5
Len: 9.5
Bruno: 9.5
Melissa and Tony got stuck with the "Life is a Highway" samba. I think Melissa got a little overzealous with the fake tanning this week — fluorescent yellow was probably a bad color choice, girlfriend. Lousy costume or not, though, she looked great on the dance floor — and Len called her his favorite! Take that, Kelly and Shawn!
Carrie Ann: 9.5
Len: 9.5
Bruno: 9.5
Shawn and Derek wound up doing a cha-cha to "Respect." They started out the evening in last place after getting panned by the judges last night. Not like that mattered — they nailed it tonight, scoring a perfect 30. More importantly… ohmygod Derek crying was simultaneously the cutest and saddest thing I have ever seen. It was like watching a tiny puppy get left home alone all day. I might have shed a tear. Might have. Okay, okay… I bawled like a baby.
Carrie Ann: 10
Len: 10
Bruno: 10
And at the end of everything, drumroll please, ladies and gents…
MELISSA AND TONY took home the Mirror Ball Trophy!!!!!!
Yay! Finally, proof that underdogs can win. Ah, my heart is bursting. Sorry, Shawn — you're great and all, but you had your time to shine. Now everyone can share the love!
What do you think? Did Melissa deserve the win or should Shawn or Kelly have taken home the trophy? Shout it out in the comments!
[Image Credit: Adam Taylor/ABC/Getty Images]
More:
Dancing With the Stars: All-Stars Finale: And the Winner Is…
Dancing With the Stars: All-Stars Recap: Not For the Faint of Heart
Dancing With the Stars: All-Stars Recap: I Just Sunk My Own Battleship
You Might Also Like:

Best Nude Scenes of 2012 — PICS

'Hunger Games: Catching Fire' First Look: The Quarter Quell Begins! — PICS