'Dancing With the Stars: All-Stars' Recap: Call Me (An Ambulance), Maybe?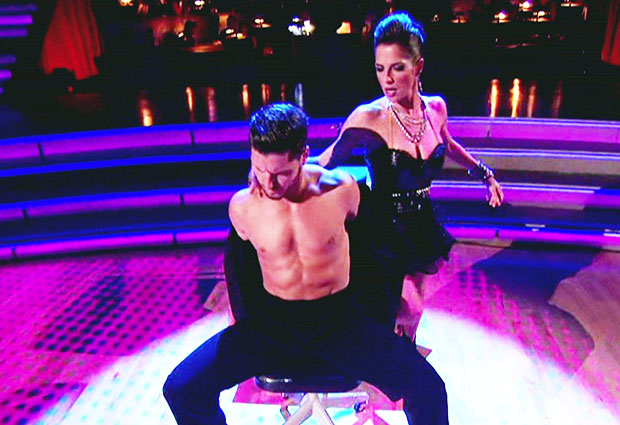 It's a bye week for DWTS this time around. After knocking Bristol Palin out of the running last Tuesday, the producers decided our collective American hearts couldn't take any more crippling anxiety and gave us a week off from eliminations. Or maybe it had something to do with the so-called "presidential debate" everyone's been tweeting about.
Either way, tonight was, in the end, another chance for the DWTS showrunners to test their ability to stretch maybe 20 minutes of actual content into a full hour of airtime. And boy, what a time stretch it was!
Kelly & Val
This week's "guilty pleasures" theme took the whole "guilt" thing a bit more literally than I was expecting, mostly in that I felt guilty (and frankly a little embarrassed) for watching Kelly and Val basically do the deed on the dance floor. Come on, guys. This is your second bedroom-themed routine in as many weeks. Get a real room already.
Scores:
Carrie Ann: 8
Len: 8
Bruno: 8.5
Gilles & Peta
The only thing that can possibly be said about this dance is that it knocked Carrie Ann off her feet. Literally. She toppled harder than Lindsay Lohan on a Friday night in Hollywood, to the (hilarious) horror of nearby audience members. Guilty pleasures, indeed.
Scores:
Carrie Ann: 10
Len: 9.5
Bruno: 10
Kirstie & Maks
I'm constantly confused by Kirstie Alley. I can't decide if I think she's hysterically funny or absolutely horrifying, and whenever I watch her dance my face contorts into this weird scrunched up expression like I have really bad food poisoning and want to throw up but am also watching Titanic and it's just really emotional, you know?! This week was no different, and Kirstie remains an enigma to me. Also enigmatic: how on earth "Mrs. Robinson" can be considered a guilty pleasure song. Riddle me that!
Scores:
Carrie Ann: 8.5
Len: 8.5
Bruno: 8.5
Emmitt & Cheryl
I didn't realize Cheryl was wearing a top until a full 30 seconds into this dance. You have to understand how traumatizing this performance was for me. Between fake-naked Cheryl and the GIANT PARROT PROPS IN THE BACKGROUND (seriously, did anyone else see those?), I don't think I actually watched Emmitt dance. No, wait, I did. Was he wearing a jumpsuit? Guys, it might be time to hire a new dresser.
Scores:
Carrie Ann: 9.5
Len: 9.5
Bruno: 9.5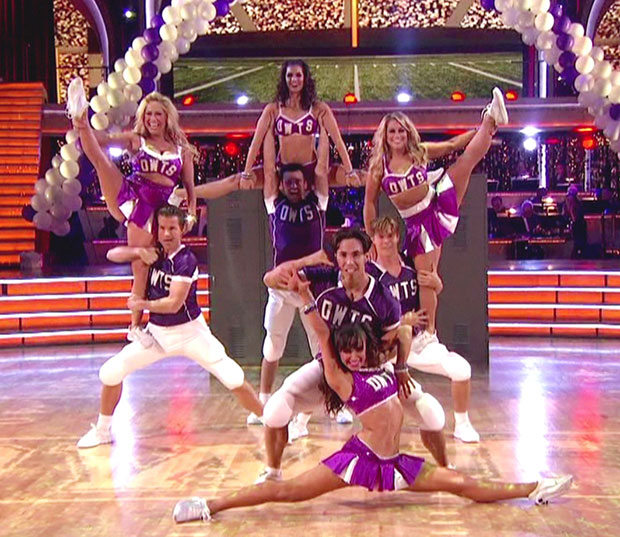 Team Dance: "Call Me Maybe"
You know, I went through a (rather long) period of time this spring when I was absolutely obsessed with this song. Sometimes I still hear it and find myself inadvertently bopping my head to the beat. But tonight cured me forever. I don't know if it was the weird high school theme (um, were they dancing on a football field?) or the fact that this dance literally almost killed Melissa Rycroft (she was sent to the hospital during rehearsals for a herniated disc), but me and this song are – to quote another pop star we all know and love – never, ever, ever getting back together. Sorry, Carly Rae.
Scores:
Carrie Ann: 9.5
Len: 10
Bruno: 10
Tomorrow, the other four couples compete, and tonight's partners take on "Gangnam Style" for a group number. Let's just hope that performance isn't high-school themed.
[Image Credit: WENN(2)]
More:
Melissa Rycroft Hospitalized for Head Injury During DWTS Rehearsals
Dancing With the Stars Recap: Double (Elimination) Trouble!
Dancing With the Stars: All-Stars Recap: Peter Pan, Living Statues, and a Donkey
From Our Partners:

Jessica Biel Shows Off Wedding Ring After Marrying Justin Timberlake in Italy — PHOTO
(Celebuzz)

Kristin Cavallari Doesn't Want to Plan a Wedding Right Now, Says She's Focusing on Motherhood for Now — EXCLUSIVE VIDEO
(Celebuzz)