Danny Castellano is Pretty Much the Dreamiest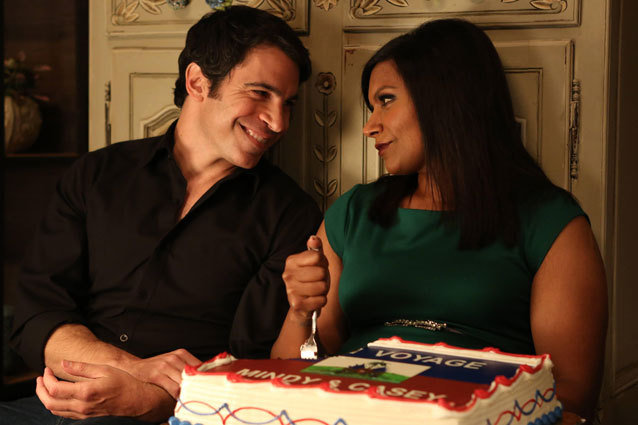 Beth Dubber/FOX
In the first season of Mindy Kaling's highly anticipated series The Mindy Project, audiences didn't quite know what to make of her titular alter ego. The show struggled to give Mindy Lahiri the flaws that would keep the awkward situations and graceless pratfalls coming, while also endearing her to us. The show started to hit its stride towards the end of season one, and Mindy became less of a manic-pixie-dreamgirl version of Kelly Kapoor and more like a fully fleshed-out character in her own right. Well done, show.
What's never been in question, however, is the sheer, unadulterated dreaminess of the character who we all know is meant to be Mindy's endgame love interest: Danny Castellano. Doctor Danny Castellano, if you please.
Chris Messina is one of those actors who seems suddeny ubiquitous, though he's been steadily working for quite a while. Last year was his TV breakout; he made his mark not only in this tentpole Fox comedy, but also in premium cable drama, playing Reese Lansing on The Newsroom. The double duty gives us the opportunity to see the variety in the way Messina plays frustration. Reese is a churlish rich kid. But Danny's grumpiness is one of his most appealing traits. The more annoyed Danny gets with the shenanigans that pervade his office, the harder we swoon.
Dr. Castellano — he claims — just wants everyone to get to work and leave him alone. But then he's curiously game to get on board with his coworkers' sitcom schemes, even if he complains the whole time. He would rather stick pins in his eyes than talk about his feelings, and he's still not sure if The Colbert Report is a satire or not. But Danny's a good friend to Mindy, who has realized that his boldfaced honesty is well-intentioned and valuable. They make excellent partners in crime, and he's perfecting that look — the Mr. Darcy look that has us screaming at Mindy to get her to notice. He also sweats a lot, but he's birthing babies here, people. It's hard work.

When we last left Danny, he was making another go of it with his ex-wife Christina (Chloë Sevigny) after Mindy decided to go with her minister boyfriend Casey to Haiti. We'll catch up with them on The Mindy Project  second season premiere, which is available right now on Hulu and iTunes and airs on Fox Tuesday, September 17 at 9:30 PM ET.
More:
'Bones' and Awesomely Awkward Product Placement
Hollywood's Ongoing Case of Anglophilia
'The Walking Dead' Gets A New Companion Series
---
From Our Partners


Stars Pose Naked for 'Allure' (Celebuzz)


20 Grisliest TV Deaths of 2012-2013 (Vulture)