'Doctor Who' Gets Premiere Date, Earth-Shattering New Companion Photo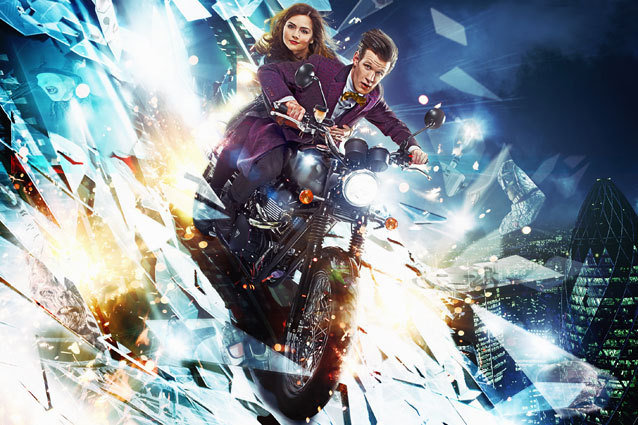 Grab your nicest bowtie (because we all know bowties are cool), charge up the sonic screwdriver, and put on your Saturday's best, because Doctor Who will be traveling through time and space to land on your television screens starting March 30, 2013. Run to your nearest television and turn on BBC America, you clever boys [and girls]!
The above image hints at what is sure to be a blockbuster of an upcoming season, and shows a modern-day London getting smashed through by a motorcycle-riding Doctor and newest companion — the girl who shouldn't exist! — Clara Oswin Oswald (Jenna-Louise Coleman). Take a closer look at those shards of glass, because they, too, tell a story: enemies from the Doctors' past, present, and future! I smell a bit of symbolism in this soufflé.
Following a frenzied and exciting first half of Season 7, the second half is sure to be a walloper, given that 2013 marks the 50th anniversary of the iconic Britsh series. According to a press release from the BBC, the first new episode sees the eleventh doctor (played by Matt Smith) returning to modern day after a brief stint in the past, where we are re-introduced to new companion Clara Oswin Oswald. Written by head writer/executive producer Steven Moffat, "The Bells of St. John" is said to introduce a brand new nemsis to the world of The Doctor: the intriguingly-named Spoonheads (who probably have very little to do with The Coneheads). Our fair Doctor discovers said evildoers in the midst of unveiling that there's "something sinister lurking in the Wi-Fi." (Because of course there is!)
RELATED: Doctor Who Himself to Star in Ryan Gosling Film
There will be eight new episodes total in the second half of season 7, with the highly-anticipated return of writer Neil Gaiman to the Whoniverse. New adversaries and familiar friends abound as Clara and the Doctor journey from the bottom of the ocean to the center of the TARDIS — and beyond.  There will be Cyberman (rumored to be included in the episode penned by Gaiman), Ice Warriors, haunted houses, and alien worlds. The Cybermen make "a thunderous return," and the Ice Warriors arrive in "an unexpected place" — all leading up to the (hopeful) answer of the First Question: Doctor WHO? Book your tickets to Trenzalore now, because methinks we're going.
According to Moffatt, all bets are off. "It's the 50th year of Doctor Who and look what's going on! We're up in the sky and under the sea! We're running round the rings of an alien world and then a haunted house. There's new Cybermen, new Ice Warriors and a never before attempted journey to the centre of the TARDIS. And in the finale, the Doctor's greatest secret will at last be revealed! If this wasn't already our most exciting year it would be anyway!" Don't threaten us with a good time, Moffatt — we're not Cybermen, our brains can't handle such emotion. 
RELATED: Next Doctor Who Could (and Should) Be a Woman
Doctor Who premieres Saturday, March 30, at 8 PM ET/PT on BBC America. Will you be tuning in, or are you some sort of Dalek we're going to have to exterminate?
Follow Alicia on Twitter @alicialutes
[Photo Credit: BBC]
---
From Our Partners:

Kate Upton Bares All In Body Paint (Celebuzz)


33 Child Stars: Where Are They Now? (Celebuzz)