'Duck Dynasty' Season 3 Finale: The 8 Most Ridiculous (Yet Profound) Quotes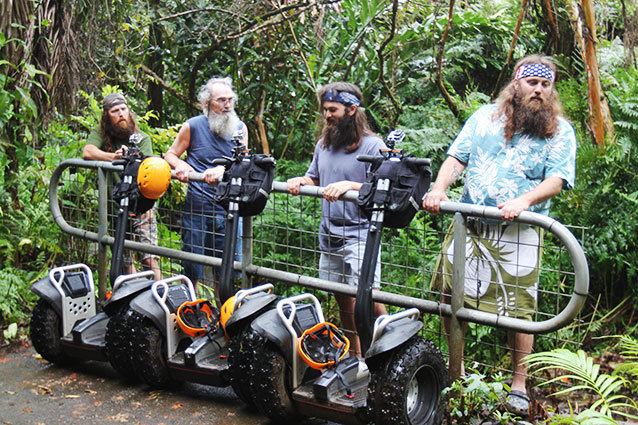 In the Season 3 finale of A&E's reality hit Duck Dynasty, fans were treated to something we've never seen before: The Robertsons on vacation. Complete with floral shirts, fruity drinks and a sarong that looked so right, our flock did their best to unwind and have some fun on their Hawaiian getaway.
In between the clan's jungle tour and Jason Bourne movie marathon, we at Hollywood.com realized that that the Robertsons are actually like heavily bearded life coaches. They live their lives to the fullest and drop plenty of weird yet relatable nuggets of information along the way. So to help you pass the time until the Season 4 premiere, we present the eight most ridiculous (yet profound) words of wisdom from The Robertsons on vacation.
Si, on Why The Movie Ted Was Horrible For Society: "What is this world coming to when we cant even count on teddy bears to give us wholesome entertainment? He was cussing and doing drugs and junk! The next thing you know the Care Bears are going to start gangs and you've got Teddy Ruxpin doing drugs with Paddington. We've got Winnie the Pooh sticking up a store yelling, 'Hey! Hand over the honey, nice and slow or the Piglet gets it.'"
Jase, on The Benefits of Having a Beard: "The beard is the piggy bank of the human anatomy. It's like a taste savings account, you go revisit it later."
Phil, on Why Jason Bourne is The Absolute Best: "Jason Bourne: He's kind of a cross between MacGyver and James Bond. He's got every kind of jujitsu known to man. He's able to live off the things he finds in the woods — he's my kind of man. Jason Bourne: The Ultimate Redneck. He's kind of like the son you never had."
Si, on Technology: "Forget it, you're not going to teach this old dog new tricks, but you can bring an old dog new toys."
Willie, on Trying New Adventures: "My rule of thumb is I'll only allow myself to fall four times while doing anything. Anything more than that, you're just being an idiot. Okay six… six times and that's it."
Si, on The Human Anatomy: "Sometimes nature calls and when it calls you've got to answer it — like when the phone rings, hey you pick it up. It's nature, the call of the wild, you can't stop dogs from barking and you can't stop whales from swimming and you can't stop me from whizzing."
Jase, on Finding The Perfect Gift: "Do not give me any gifts if you cannot handle to truth of what I think about it because I'm going to tell you."
Si, on Packing For Vacations: "When I get told to bring appropriate attire, hey that's what I do. If I was heading to Miami I'd have a white sports coat and a pink T-shirt. Dallas? It'd be a big ten gallon cowboy hat and a belt buckle. For Hawaii it's a Tigers hat and a flowery red shirt. It's like I said before, you've got to blend in with the culture."
Follow Leanne on Twitter @LeanneAguilera
MORE:
More People Watched The 'Duck Dynasty' Season Premiere Than…
'Duck Dynasty' Season 2 Finale Gets Record Ratings
Late Night Last Night: Jessica Pare Wasn't Sure 'Zou Bisou Bisou' Would Be A Hit
---
From Our Partners


50 Worst Celeb Mugshot Fails (vh1)


33 Child Stars: Where Are They Now? (Celebuzz)