'DWTS' Week 9: Louis van Amstel Thinks 'It Will Be a Shocker' If Ingo Survives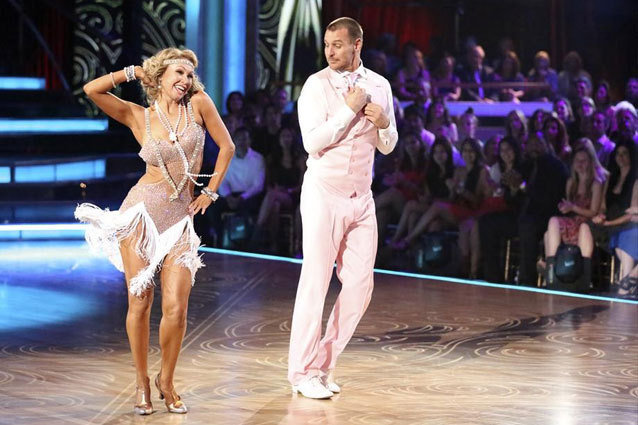 Tonight is the last elimination before Dancing With the Stars Season 16's finals, and pro dancer Louis van Amstel has a good idea of who the final four couples will be: Zendaya, Kellie Pickler, Jacoby Jones, and Aly Raisman.
After last week's elimination of Sean Lowe, van Amstel believes Ingo Rademacher's time is up. "I thought it was either going to be Ingo or Sean eliminated last week, and it was very clear that the judges wanted Sean to go home so he got unfairly scored," van Amstel tells Hollywood.com. "It was obvious that the judges wanted everyone else to stay. Ingo did an okay job and the right one got the boot first."
But now that Lowe is gone, and after last night's round of dancing, van Amstel is confident Ingo will be eliminated on Tuesday's results show.
"It's going to be hard for Ingo because it's already absolutely clear that Zendaya and Kellie are in the finals, and there are only two spots left," van Amstel says. "Jacoby, the entire season, has been so committed and Aly has been gaining momentum later in the season and she's got a huge fan base. But who knows, because Ingo has a big fan base too so there could be a shocker if he stays for the finals."
Tune in to Dancing With the Stars on Mondays at 8 PM ET/PT, and Tuesdays at 9 PM ET/PT on ABC.
Follow Sydney on Twitter: @SydneyBucksbaum
More:
'DWTS' Week 7: Louis van Amstel Predicts Week 8's Elimination 
'DWTS' Week 6: Why Louis van Amstel 'Isn't Worried' for Andy Dick 
'DWTS' Week 5: Aly Raisman 'Surprised' Louis van Amstel
'DWTS' Week 4: Louis van Amstel Thinks Victor Ortiz 'Redeemed Himself' 
'DWTS' Week 3: Louis van Amstel is 'Worried for D.L.' Hughley
'DWTS' Week 2: Louis van Amstel Weighs In on the Best (And Worst) Pairs
---
From Our Partners:


Zoe Saldana Strips Down For Magazine (Celebuzz)


33 Child Stars: Where Are They Now? (Celebuzz)