Emmys 2011: Host Hall of Fame

The Primetime Emmy Awards ceremonies are not exactly known for having memorable hosts ([don't] see 2008's five-headed hosting monster or, even worse, the no-host experiments) the way the Academy Awards show is, but when the hosts have been great, so have the telecasts — and those few hosts should be inducted into the nonexistent Emmy-Host Hall of Fame. Here are our picks.
Years Hosted: 2001, 2005 (co-hosted in 1994)
Other Notable Hosting Gigs: Academy Awards
It's not necessarily how great she was that landed her a spot on this list. No – Ellen, it could be said, hasn't even been perfect. But it's worth noting the dates of her two Emmy-hosting turns: Nov. 4, 2001 (a few months after 9/11), and Sept. 18, 2005 (a few weeks after Hurricane Katrina). On both occasions, DeGeneres, quite impressively, navigated the rocky terrain of hosting a self-celebrating TV awards ceremony shortly after a national tragedy. She didn't pretend the former was comparatively important, and she didn't attempt to take anybody's mind off the latter. What she did do, both times, in some tiny way, for a few short minutes, was help everyone simply take a collective deep breath – and that's priceless during such times. The following line from her first Emmys gig best sums it all up: "What would bug the Taliban more than seeing a gay woman in a suit surrounded by Jews?"
Years Hosted: 2002, 2006 (co-hosted in 2003)
Other Notable Hosting Gigs: None
Not that his 2002 ceremony was a failure, but by 2006, Conan was in a comfortable creative groove, and it showed when he hosted the Emmys. The then-Late Night star was at his self-deprecating – and network-deprecating – best, hurling dry, offbeat zingers that stayed true to his strengths as a comedian. Which might explain the near record-low ratings. Still, though, viewership for a one-off like that says nothing of the host's success.
Year Hosted: 2009
Other Notable Hosting Gigs: Tony Awards
Harris is a natural born host – no matter the event or the medium. Affable, extremely talented, appealing to most everyone, and up for (and capable of) anything thrown his way, NPH is the dream modern-day host. The How I Met Your Mother star might've been more in his theatrical element hosting the Tonys, but he has never been better than during his one gig emceeing the Emmys, in '09. Granted, he followed the failed experiment that was the five-host ceremony a year earlier, but even if Harris had taken over for Johnny Carson, he would've been great. Speaking of Carson…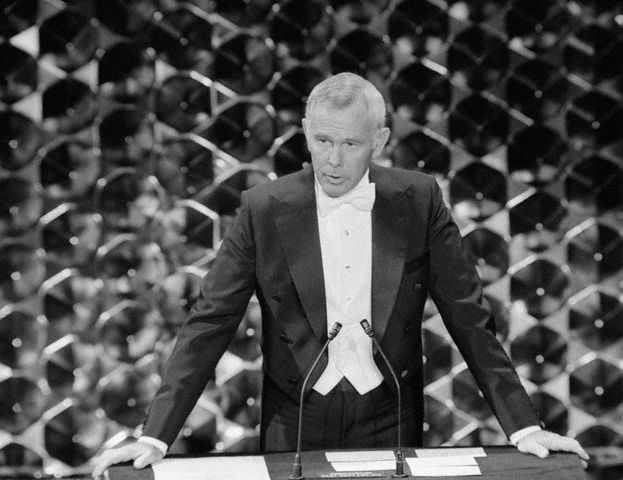 Years Hosted: 1971-1974 (co-hosted in 1963)
Other Notable Hosting Gigs: Academy Awards
Nobody did it like Johnny – and that cliché's not just applicable to Carson's days, er, nights as host of The Tonight Show. During his heyday, the King of Late Night transitioned seamlessly into one of primetime TV's biggest annual events, and he was so good, so characteristically flawless, that he presided over four consecutive Emmy ceremonies in the early 1970s. The same utter perfection led to a similar tenure as host of the Oscars in the late '70s and early '80s.
Honorable Mention: Jimmy Fallon
He's always been hit-or-miss, love-him-or-hate-him, but even non-Fallon fans had to be impressed with his elaborate musical numbers and sketches as host of last year's show. (He's only an "Honorable Mention" because the Hall of Fame rules mandate at least one year must pass before a host is eligible for induction.)