Exclusive: Matt LeBlanc Says Former 'Friend' to Guest on 'Episodes'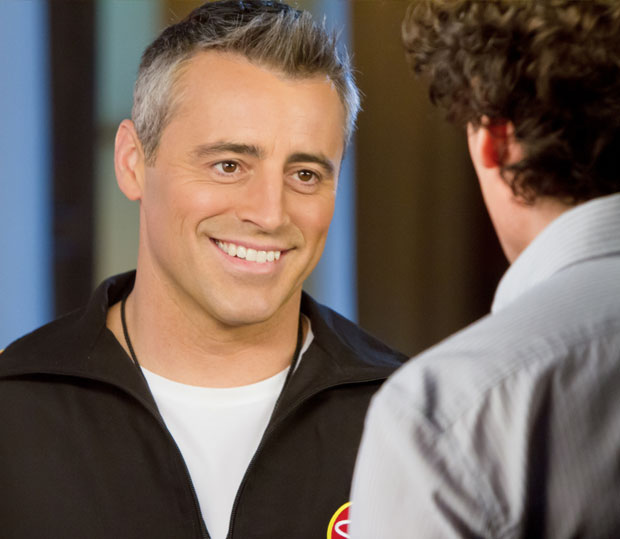 "How you doin'?!" 
Well, we're doing great! Last night Hollywood.com mingled with the former Joey Tribbiani, Matt LeBlanc, who answered the question of all questions: Will there ever be a Friends cameo on his hit Showtime comedy Episodes? And the answer is…
"Yes, there is going to be!" LeBlanc said with a smile at the CBS/CW/Showtime party in Beverly Hills on Sunday night. When we pressed the former sandwich-lover for more details, he was very tight-lipped. LeBlanc says this mystery guest star will only be in one scene. When asked if this would be a friendly visit, he replied, "Yes, very friendly." With an emphasis on the 'very,' people!
Our first assumption is that LeBlanc's Showtime sister Lisa Kudrow (Web Therapy) would be the one reconnecting on camera, but when we suggested this intra-network crossover, he only repeated, "It's very friendly." Hmm… well, at least we know there's a one-in-five chance of getting it right.
Although there have been quite a few Joey references on Episodes, LeBlanc wants to distinguish the two characters. "They're really nothing alike," he says. "I'd say the Matt LeBlanc on Episodes is a more successful actor than Joey Tribbiani on Friends ever was."
On Episodes, Matt LeBlanc plays Matt LeBlanc, but it's a more outrageous and less reputable version of himself. The Golden Globe winner explains, "I think the character is the public's perception of a celebrity. That's kind of what we aim for. So, that gives us a lot of license and I've just loaned my name to it, so it's been a lot of fun in that sense."
You can catch Episodes Sundays on Showtime at 10:30 PM ET/PT.
Which Friends star do you think will making an appearance on Episodes? What do you think Matt means by "very friendly"? Share your thoughts in the comments below! 
Follow Leanne on Twitter @LeanneAguilera
[Photo Credit: Showtime]