First Look: Rob Schneider and Cheech Marin Preview CBS' 'Rob'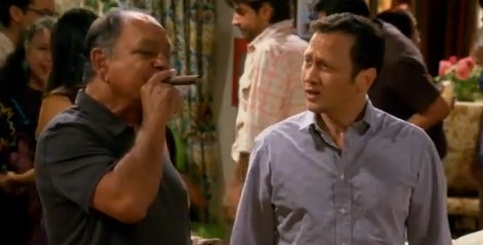 The first batch of footage for the upcoming CBS sitcom Rob is here in the form of a featurette, which also includes interviews with the series' star/co-writer/resident Happy Madison feature fixture Rob Schneider, director Jamie Widdoes, and several of the cast members. The series plays on the traditional theme of clashing families, in the vein of Everybody Loves Raymond, Dharma and Greg, and many others.
Schneider plays the titular Rob, who impulsively marries Maggie (Claudia Bassols), a young, attractive Mexican-American woman with a colossal extensive family, none of whom care too much for Rob upon meeting him. Her parents (Cheech Marin and Diana Maria Riva) are especially displeased with him, which is only augmented after a "bad timing" interraction between Rob and Maggie's grandmother (Lupe Ontivero). Then there's Uncle Hector (Euginio Derbez), who is scheming to earn a permanent place in Maggie's parents' American home.
Rob premieres Thursday, Jan. 12 on CBS.
Source: AV Club