'Free Agents' Pilot Review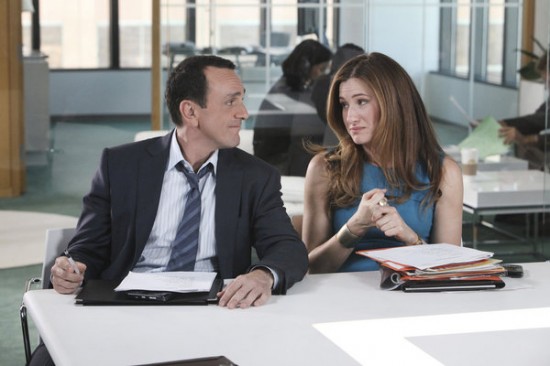 There's nothing not to love about Hank Azaria. He's always hilarious, and even when his lines aren't that great he brings something entertaining to the table. That's why I really, really want to like Free Agents. There's just one significant issue: other than Azaria, the series isn't all that lovable.
It centers on two Corporate PR executives, Alex (Azaria) and Helen (Katheryn Hahn), who've both recently become single. Alex is going through a divorce, though he's still distraught over the loss of his family life, and Helen is going through grief stages after losing her fiancé to a heart attack. Naturally, these two sad saps find themselves falling into bed together and that's where we come in. There's just one thing in the way of this love connection: Helen's stone cold refusal and Alex's emotional instability.
They traverse the office landscape which consists of flat, obnoxious supporting characters (including comedians Natasha Leggero, Al Madrigal, Mo Mandel and Buffy vet Anthony Head) that do nothing to prop up our main characters. So they're left carrying the weight. When Helen refuses Alex after their accidental tryst, he's forced to accept an office mate's invitation to be his wingman. They agree to stay friends, but according to the dialog a platonic relationship is impossible. The only snag here is that other than the words coming out of their mouths, there's no evidence of their overwhelming chemistry.
Alex's night out of course doesn't work out, and as soon as Helen, who's on her inhumanly possible second bottle of wine and staring at her 21 portraits (22 if you count the wine mug) of her deceased fiancé, he immediately comes running to her side. It's sweet, but again, I'm not feeling the unrelenting force between them. The crux of this show rests on this couple and the audience's desire for them to get together, but it's just not there.
It's not that the show isn't without its funny moments — like everything Azaria says or Hahn's Helen freaking out at the grocery store clerk when he judges her plentiful wine purchase. We've got two very funny, capable actors at the center of the series, but without the romantic pull, it's hard to find the attachment necessary to stick with it. Perhaps it's just pilot jitters, but unless the chemistry comes around, I'm not sure we're looking at a winner.
If you missed Free Agents' soft premiere last night, watch the full episode here or tune into NBC on Wednesday, Sept. 21 at 8:30 p.m.