From 'Modern Family' to 'Friends': A Contract Dispute Mini-History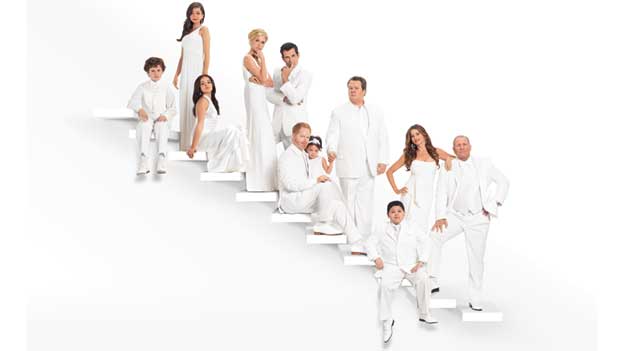 As we reported earlier today, all six of the adult lead cast members on ABC's Modern Family, including Ty Burrell, Sofia Vergara, Jesse Tyler Ferguson, Eric Stonestreet, Julie Bowen and Ed O'Neill have filed a suit today to void their contracts with 20th Century Fox Television. And while this came as a surprise to some (co-executive producer Danny Zuker tweeted after the story broke: "So, anything interesting happen at YOUR office today…?"), it is not an entirely unsurprising move. In the history of television, there are many instances of cast members banding together in order to receive the pay they feel justly entitled to, and oftentimes, it works. Don't believe us? Check out some highly-publicized contract disputes from television's past below!
Show: Friends
Complaint: The stars (Jennifer Aniston, David Schwimmer, Matt LeBlanc, Lisa Kudrow, Courtney Cox, and Matthew Perry) knew that Warner Brothers (who bragged about it publicly) were making tons of money off the show–at the time it was one of the most profitable television shows ever–and decided to do a joint holdout (much like the cast of Modern Family did) in order to bargain for more money. They were originally bringing in $40,000 per episode.
Amount Requested: About $100,000 per episode, though Warner Brothers was trying to negotiate down to $75,000.
Amount Earned: They got their $100,000 and went on to reportedly bring home an astounding $1,000,000 an episode by the end of the series' run. Yowza! Those guys really took that Rembrandt's song to heart. Looks like it paid off!
Show: The Simpsons
Complaint: The longest-running show on television almost ended early when contract negotiations began during the 23rd season. Twentieth Century Fox claimed that unless voice actors–namely principals Harry Shearer, Dan Castellaneta, Julie Kavner, Nancy Cartwright, Yeardley Smith and Hank Azaria–took a 45% pay cut, the should would be unable to continue.
Amount Requested: The actors fought back, with several alleged deals being volleyed around. Shearer claimed that he would take a 70% pay cut if he could have access to a portion of the marketing, consumer product, and syndication money (which made the company an estimated $8 billion per year at the time).
Amount Earned: In the end, Twentieth Century Fox wouldn't budge on the money participation, but the actors did accept a 30% pay cut to keep the show on the air, and the fans rejoiced!
Show: Jersey Shore
Complaint: The cast of Jersey Shore aren't as dumb as they look when it comes to contract negotiations. They, similarly to the cast of Friends also did a joint holdout on signing onto season three of the hit show in order to ensure everyone received the same amount. It is reported that the cast originally made $10,000 an episode for season two and $30,000 an episode for season three.
Amount Requested: It is unknown how much the cast officially requested, but it was alleged that Snooki, The Situation, Pauly D, JWOWW, Ronnie, Vinny, Sammi, and Deena requested somewhere in the $150,000 range.
Amount Earned: In the end, the cast signed into season three of the show making a handsome $100,000 per episode. Remember: never fall in love at the Jersey Shore, it's all about business!
Show: West Wing
Complaint: In 2001, the cast of the Aaron Sorkin show had a very public dispute about contract negotiations as it was uncovered how much more some stars were making than others. Because of this, stars Allison Janney, Richard Schiff, Bradley Whitford and John Spencer banded together to renegotiate what they were bringing home.
Amount Requested: The four actors requested that their salaries be tripled.
Amount Earned: In the end, Warner Brothers agreed to double their salaries, bringing them each $70,000 per episode (they were originally making $30,000 per episode). However star Rob Lowe wasn't so lucky: he reportedly was making between $75,000 – $100,000 an episode, but the company refused to consider a pay raise for the actor, so he left the show.
Show: The Real Housewives of New York
Complaint: Heading into season three, the original gals (minus Kelly Bensimon) bandied together to request a six-figure salary per episode. Bensimon, who was still new to the series, signed onto a smaller contract without hesitation.
Amount Requested: It was rumored that the girls requested somewhere in the low $100,000 per episode.
Amount Earned: While details are scarce as to exact numbers, the girls did end up with something in the low six-figures to continue onto the next season. It wouldn't last though, as several of the ladies contracts (including Jill Zarin, Kelly Bensimon, and Alex McCord) were later fired before season five.
Show: The Big Bang Theory
Complaint: The show, it can be argued, has a very similar level of notoriety, success, and critical acclaim to the first one on our list, Friends. And it's also run by the Warner Brothers folks. So it's no surprise that the three lead castmembers (Jim Parsons, Kaley Cuoco and Johnny Galecki) initially tried to negotiable in their footsteps, by negotiating as a unit. However, that strategy (for whatever reason) quickly crumbled as Emmy-winning Parsons made an about-face and negotiated on his own.
Amount Requested: It is currently unknown what the request was, but there is speculation it was in the $300,000 – $400,000 range
Amount Earned: In the end, Parsons' strategy didn't work, so he, Cuoco and Galecki ended up earning roughly $200,000 per episode last season, which was still a huge increase from $60,000 the season prior. They also managed to secure $50,000 bumps each year over the next three years, AND syndication profits. Oh those brainiac nerds! So good with the numbers.
What do you think about the contract negotiations going on with the Modern Family cast? Do you think their raises are warranted? Let us know what you think below in the comments.
[Image Credit: ABC]
Follow Alicia on Twitter @alicialutes
More:
'Modern Family' Cast Sues to Void Contracts During Salary Negotiations
Casting Roundup: 'Modern Family' Brings in an Apatow Favorite
Will 'The Simpsons' Call It Quits At The End of This Season?