'Game of Thrones' Cast Gets Silly, Begs George R.R. Martin for Their Jobs — VIDEO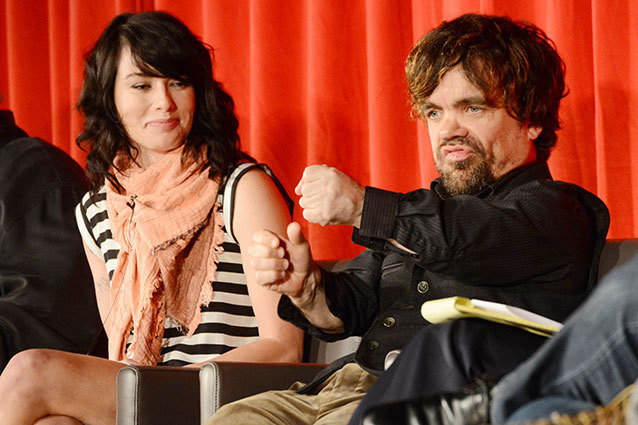 If there were any among the panel who would be left for dead by the end of season three, they certainly didn't act like it. The cast of Game of Thrones was all jokes and smiles going into a special panel event hosted by the Academy of Television Arts & Sciences (also known as the folks who put on the Emmy Awards) — but not even a jovial atmosphere could get these tough nuts to crack. Juicy tidbits and spoilers were scarce from actors Peter Dinklage, Nikolaj Coster-Waldau, Lena Headey, Kit Harington, Michelle Fairley, Sophie Turner, and Maisie Williams, show creators D.B. Weiss and David Benioff, or epic-Westeros-realm-imaginer/novelist George R.R. Martin. But that doesn't mean the night was a wash! 
RELATED: New 'Game of Thrones' Teaser Teases…Not A Lot
Hosted by It's Always Sunny in Philadelphia funnyman and creator Rob McElhenney, the ninety minute panel saw talk of dragons (totally CGI), direwolves (not CGI: real wolves, just scaled up fifty percent), that more than one will "sit on the throne" before the war is over, the absolutely insane film schedule, and the burning question of whether or not crazy kids Cersei and brother Jamie ever really make it work (not if Headey has anything to say about it). So, you know, stuff we already knew.
The highlight of the panel was far and away the banter that took place. And it started right from the get-go, with McElhenney lusting after the curly coif of Harington and the "Disney villain prince you're rooting against" hair of Coster-Waldau. Not to be outdone by McElhenney, the rest of the cast got quite a few kooky quips in themselves — in between begging Martin to keep their jobs after admitting they might not have read the books as religiously as the fans themselves. (The fear on Headey and Dinklage's faces after their admissions — made all the more awkward given that the two were sitting closest to Martin — was truly priceless.) We've brought you the highlights below:
RELATED: 'Game of Thrones' Season 3: The War Begins
– On Playing The Game "Mercy" Against Khal Drogo (and losing, epically): "Matthew Weiner [creator of AMC's Mad Men] would never do that." – Benioff
– On Which Character He Would Love to Play: "I do play all the characters." – Martin
– On Which Character She Would Love to Play: "I would love to play Joffrey … you know, you can only get beat up so often." – Turner
– On Which Character He Would Love to Play (other than his first answer, "Don Draper"): "Well if Benihoff is playing Khal Drogo, then I want to play his Daenerys Targaryen!" – Dinklage
– On Whether or Not He Reads the Books: "Like Maisie, my mom read the books and told me what happened." – Coster-Waldau
– On Agreeing to Sign On and Fantasy Dwarf Stereotypes: "One demand: no long beards." – Dinklage
– On Dinklage's Discussion of Faking Surprise: "You 'faked it'? You mean you had to act." – McElhenney
– On Belfast, Ireland: "I'm s**tting on Belfast. It's the greatest place in the world…truly. (Whispers to McElhenney) It's not…we could shoot this in Burbank." – Dinklage
RELATED: 'Game of Thrones': Choose Your Weapon!
Of course, this merely scratches the surface, and leaves out the longer stories (of which there were plenty) — including a hilarious tale of mistaken identity from man-of-the-hour Dinklage — but fans can catch the panel in its entirety, below. And stay tuned into Hollywood.com for the juicier details we gleaned from interviewing the cast on the red carpet!
Are you looking forward to the March 31 premiere of Game of Thrones? Sound off in the comments.
Follow Alicia on Twitter @alicialutes
[Photo Credit: HBO]
---
You Might Also Like:


Topanga's Revealing Lingerie Shoot: Hello '90s!


25 Stars Before They Were Famous