'Glee' Casts Aisha Tyler As Mama Puckerman, But Who Else Needs Parents?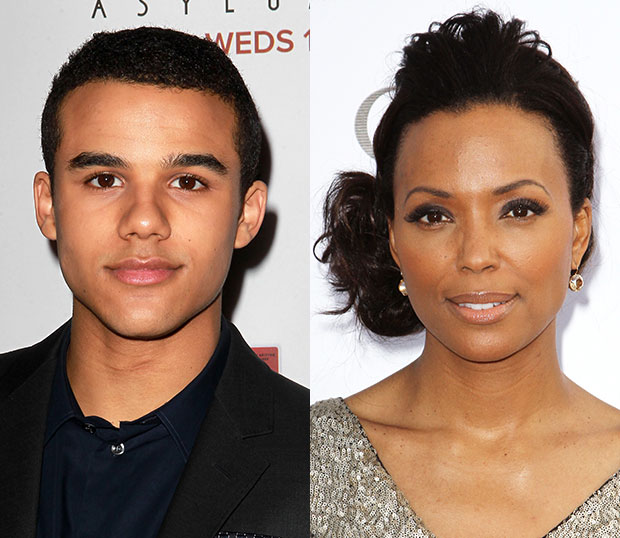 Looks like the powers-that-be at Glee are adding a new branch to the Puckerman famly tree. Later this season—in the Christmas episode to be exact—be prepared to meet Jake's (Jacob Artist) mom played by the lovely Aisha Tyler. That's right the new bad boy of McKinley will be sharing some screen time with The Talk co-host and, according to TVLine, she will be offering her son "some much-needed parental guidance." So far, all we know about Tyler's character is that she is a hard-working waitress at the Lima country club who puts in extra hours to pay for Jake's dancing lessons. Basically the race for Lima's "Mom of the Year" is neck-in-neck between Jake and Marley's selfless mamas.
Although I am beyond thrilled to see little Puckerman get some time to shine with his mommy dearest, I wonder when—or more importantly if—fans will ever get to see their favorite character connect onscreen with their assumingly awesome parents. So while we count down the hours until Glee returns to our TV screens, (this hiatus has seriously sucked all the happiness out of the world) here is a list of Glee parents that I'm still keeping my fingers crossed to see this season:
–Brittany's (Heather Morris) Mom and Dad—If it's not Lisa Kudrow, then I will throw a chair through a window and blame a small, wide-eyed child.
–Artie's (Kevin McHale) Mom and Dad—Is his mom all right from the accident? Does his dad enjoy sweater vests too?
–Sugar's (Vanessa Lengies) Mom—I imagine a Real Housewives of Lima type complete with a diamond tiara and a dog that is more of an accessory than an actual pet.
–Mercedes' (Amber Riley) Mom and Dad—Is Aretha Franklin currently booked? That's honestly the only person who could do it justice.
–Santana's (Naya Rivera) Dad—Any man who can nab Gloria Estefan as a wife, must be seriously swoon-worthy.
–Blaine's (Darren Criss) Mom and Dad—If they're absolutely anything like his brother, then I'll beg to be adopted.
–Tina's (Jenna Ushkowitz) Mom and Dad—I'd like to think that they're really artsy and free-spirited (i.e. the complete opposite of Mike Chang's (Harry Shum Jr.) parents)
–Rachel's (Lea Michele) Dads—Okay yes I know we've already met this dynamic duo, but come on It took three years and we've barely seen them at all. Parents weekend and NYADA please and thank you!
Don't miss the all-new episode of Glee, "The Role You Were Born To Play," Thusday at 9 PM on FOX.
How are you feeling about this casting news gleeks? Which parent are you just dying to meet? Does anyone else think Brittany was raised by cats? Shout out your thoughts in the comments below!
Follow Leanne on Twitter @LeanneAguilera
[Photo Credit: Wenn]
MORE:
'Glee' Recap: Which Couples Are Still Standing After "The Break Up"?
'Glee' Recap: Sexy Makeovers, Scandalous Kisses, and Sarah Jessica Parker!
'Glee' Recap: Breakdowns, Brothers, and Britney 2.0

Katy Perry Moves Forward at Barack Obama Rally in Wisconsin (PHOTOS)
(Celebuzz)