Goin' Half Throttle: Watch The Cut Guy Fieri Sketch From This Weekend's 'SNL'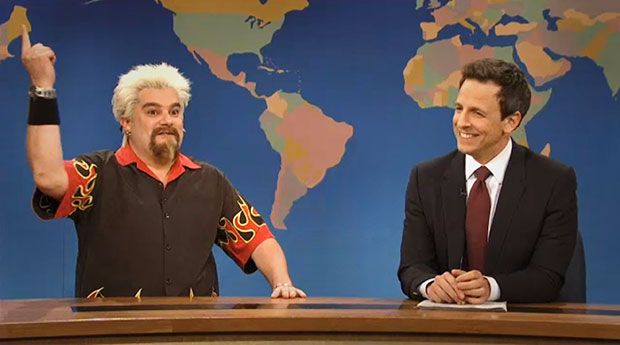 Guy Fieri just can't catch a break this week. Not only did the Food Network personality, who looks like what would happen if a member of the Insane Clown Posse forgot to put on their makeup but definitely remembered to go shopping at Hot Topic, get slammed by the New York Times in their review of his new Times Square restaurant —  a scathing critique that went viral and forced the Diners, Drive-Ins and Dives host to go on the defense — causing droves of people to eat there out of morbid curiousity, but he also can't even make the grade as a Saturday Night Live parody anymore. 
As expected, cast member
Bobby Moynihan
pulled out his brilliant, spot-on imitation of the "celebrity" "chef" in the wake of the Fieri takedown. But rather unexpectedly, the appearance was nowhere to be seen. Moynihan played Fieri for a Weekend Update bit during the
Jeremy Renner
-hosted episode over the weekend, but the moment didn't make it to air. Luckily for Fieri fans everywhere (ironic or otherwise), NBC has released the dress rehearsal sketch online and the laughs and one-liners are completely full throttle. 
How or why this was cut during a week in which the entire Internet collectively gathered to make fun of him was baffling (as was the decision to cut a bona fide crowd pleaser during a very rocky episode), especially when it featured some new Fieri-inspired catch phrase gems like: "Reading is how the eyes eat!", "I look like I'm playing the sun in a school play," "If you come in expecting Le Cirque, than you're a la jerk." While this appearance wasn't nearly as strong as some of Moynihan's older attempts, it's not nearly as bad as "comparing apples and fat dirt." 
Watch it below! Full throttle!
[Photo credit: NBC] 
More: 
How Bad Is Guy Fieri's Restaurant? The People Speak

American Music Awards 2012: The Complete Red Carpet Arrivals (PHOTOS)
(Celebuzz)

Justin Bieber, Selena Gomez Seen Together at American Music Awards After-Party
(Celebuzz)