Good News, Bad News for 'Don't Trust the B' and 'Happy Endings' Fans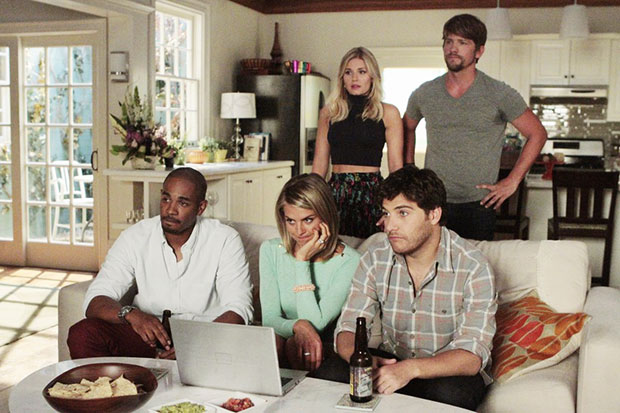 Poor Penny, Max, Jane, Brad, and Alex. Could there really not be a happy ending in Happy Endings' future? And don't forget the kids over in Don't Trust the B in Apt. 23, either. (The 'Beek deserves a chance at happiness, always!) For shows on the bubble over at ABC, life is pretty tough these days. But not all hope is lost! After a recent announcement that both series would go to a two-new-episodes-a-week airing schedule of Tuesdays and Sundays, fans were convinced their favorite shows were being shuffled out to pasture.
And what does one do with news such as this? Well, panic is one, but Paul Lee, ABC Network Group's President, extrapolated further on the shows' place within the ABC family and left a lot of room for speculation — both good and bad. "We haven't made any decisions [regarding the future of Happy Endings and ], but I can tell you that these are shows that we love," Lee explained at a Television Critics Association panel on Thursday. 't>
It seems as though Lee is erring on the side of rooting for both shows' place to stand firm in their Tuesday comedy block of programming, when his own opinions of them shone through: "We love those two shows. They're incredibly distinctive and they're water cooler shows."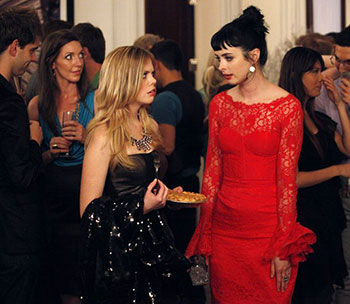 Still, both show's schedules have suffered significantly at the hand of uncontrollable situations, which may hinder the shows' chances to bounce back in the ratings. "We had an incredibly disrupted launch schedule," Lee explained, referencing huge 2012 events that dominated airwaves: the Presidential election, live debates, and Hurricane Sandy. And while people turned out in droves to watch coverage of the aforementioned goings-on, it meant episodes of both series were kept away from airwaves for an extended period of time. Sometimes, those sort of disruptions are hard to rebound from — as evidenced by both Endings and Apt. 23's lower-than-ideal-but-steady ratings numbers.
And so comes the reasoning behind the twice-a-week airings of the series, which can be seen by some fans as a way for the network to wrap up the shows earlier than expected to make way for more popular programming or as a way to help audiences discover (and re-discover) the shows. "We think it's a great way to sample [the shows]," Lee purported, no doubt hoping to quell the nerves of fans convinced ABC is ready to lay down the gauntlet, but also serving as a reminder that tune-in is vital to success.
"We know [Happy Endings] has to stand on its own," Lee acknowledged, adding that he thought "it did a great job [when it aired alongside] Modern Family." The scheduling move, Lee suggested is more of a "cable play," hopefully serving to bring in the new viewers the shows so desperately need to stay afloat.
As far as the rumors of cancellation that have sprung up on the horizon? Lee stayed mum, explaining that they "haven't made any of those decisions yet, but I can tell you those are shows that we love." There's hope yet, you guys! Stay strong.
Do you watch Happy Endings or Don't Trust the B in Apt. 23? Let us know in the comments!
Additional reporting by Jean Bentley.
[Photo Credit: ABC]
Follow Alicia on Twitter @alicialutes
More:
'Happy Endings' Recap: Picking the Show's Funniest Duo
10 Bitchiest Moments From This Week's Don't Trust the B—- in Apt. 23
Exclusive: The Cast of 'Happy Endings' Dish Season 3 Shenanigans—VIDEO

Megan Fox's 12 Hottest Moments (Moviefone)

Ryan Gosling's 'Airbrushed' Abs: Plus 19 More Reasons We Love the Actor (Moviefone)