The Guy Who Crossed Niagara Falls on a Tightrope is Doing the Grand Canyon Now. On Live TV.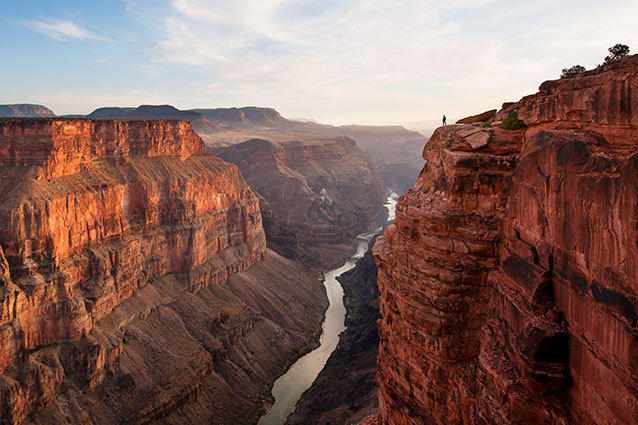 While your apprehensions keep you from anything more daring than trying that other bodega for your morning coffee once in a while, there's a guy who has risen to fame thanks entirely to his penchant for defying death. Nik Wallenda, the daredevil who became a hard-to-spell household name after braving a tightrope walk over Niagara Falls, is now taking his vertigo-inducing act to an even scarier locale: the Grand Canyon. The Hollywood Reporter reports that the Discovery network will air Wallenda's next mission live this June.
RELATED: 'Pot Cops' Is a Real Show on Discovery: Watch a Clip!
The 34-year-old acrobat will take a stroll 1,500 feet above the Little Colorado River, more than seven times higher than his Niagara Falls stunt. To add to the anxiety for viewers at home, the entire feat will be conducted without the safety net of a… well, literal safety net — he's doing this thing without a harness. And to think, the simple act of watching this live television event (an endeavor to overcome the ratings deficits resultant of the DVR era) seems like enough of a stressor.
Wallenda will take to the tightrope on June 23, so make sure to stock up on anti-anxiety pills for the occasion.
Follow Michael Arbeiter on Twitter @MichaelArbeter
[Photo Credit: Aurora/Getty Images]
---
You Might Also Like:


14 Movies Thshiat Are, Surprisingly, Not Porn


Stars Who Have Lost Roles For Being Too Hot (Celebuzz)