Where Have 'Grey's Anatomy's' Original Interns Gone and Where Are They Going?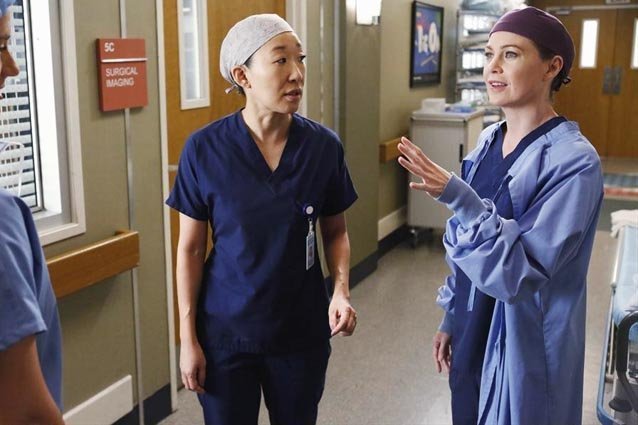 ABC Television Network
Soon the Grey's Anatomy cast will be down to just two characters who were wide-eyed interns back when the show first started. The original five interns have gone through vastly different paths to reach their current careers. Some have a place in future Grey's episodes while others will never see an operating room on ABC ever again. So what does time have in store for the original group?
Dr. Meredith Grey (Ellen Pompeo)
Although it's an ensemble cast, Grey is the closest thing to a main character, hence the title. She is a good surgeon, but known mostly as the wife of top neurosurgeon Derek Shepherd (Patrick Dempsey).
What's her future? Staying by the side of her husband, providing moral support to the hospital, performing common surgeries.
Dr. Alex Karev (Justin Chambers)
The guy's a jerk, yet he always winds up with such lovely women. Seriously, almost every female throughout the years have had some type of relationship with Karev. He's excelled at pediatrics the past few years.
What's his future? It looks like he's trading his everyday scrubs for a bigger bank account in a private practice. Can't blame him; more money and better hours are always good.
Dr. Cristina Yang (Sandra Oh)
Yang was always the intern with the most potential and she has clearly established herself as a top surgeon. Her skills rival even Shepherd's.
What's her future? She has been offered to run a rich hospital in Switzerland. Yang is officially off the show after this season, but you never know, we could see her again in an episode or two.
Dr. George O'Malley (T.R. Knight)
Always the nice guy, O'Malley never got a chance to develop his surgical skills because of a terrible accident.
What's his future? None. O'Malley died in the Season 6 premiere after complications from his accident. Unless there's some flashback episode, Knight will never be on Grey's Anatomy again.
Dr. Izzie Stevens (Katherine Heigl)
Stevens proved to be irresponsible (Denny and the LVAD wire, indecision) and gets so sick, she hallucinates seeing Denny, who had died after a heart transplant. Stevens just kind of leaves the show with little explanation, but that has more to do with Heigl than Stevens the character.
What's her future? None. Stevens is still alive, but Heigl pissed off so many people from Grey's, her return will never happen. Heigl claimed she wasn't given good material to work with. Ouch. Why is Heigl such a diva?