Review: Guy Fieri's New York Takeover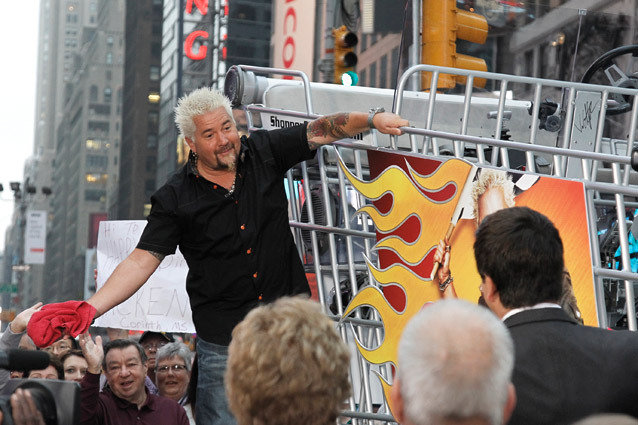 ABC/Getty
Guy Fieri showcases the diverse eats of the Big Apple in the Best of New York episode of Diners, Drive-Ins and Dives. Do yourself a favor: don't count calories.
John's of 12th Street Italian Restaurant
A patron mentions that this place looks like it would be in a Martin Scorsese movie. The Italian food is authentic and just watching it should cause you to salivate just a little. Featured dishes include veal meatballs (loaded with flavor: bread crumbs, milk, eggs, scallions, pecorino cheese, caramelized onions, Worcestershire sauce, basil, dried oregano, minced garlic) and making their own pasta from scratch. None of this out-of-the-box stuff.
Defonte's Sandwich Shop
A plethora of meats and cheeses are housed in this deli that cranks out New York heroes — about 200 or 300 of them a day. Give these guys credit, they make their own mozzarella. That cheese complements their massive sandwiches. Guy tries the steak pizzaiola sandwich and burns his mouth biting into the melted mozzarella. Totally worth it though.
The Smoke Joint
With that name you know it must be serving up barbeque. The main dish is an eye opener: killer short ribs that look like they're straight out of Jurassic Park. A nine-ingredient sauce spruces up the dinosauric ribs. There is nothing short about these short ribs; you won't be left hungry. The Smoke Joint also serves buffalo wings, spicy pork links, pulled pork sandwiches and other delicious food that will have you reaching for wet napkins constantly. Standard napkins need not apply.
The Redhead
It specializes in Southern comfort food (not the alcohol Southern Comfort, although why would you want food drenched in that swill?). The featured menu item here is pretzels. Obviously, they are not the junky pretzels you buy in a bag or on the street corner. Great detail is put into forming these delicious pretzels. A mean beer cheese sauce is the pretzel's tag team partner. Initially, Guy doesn't think the ramekin of sauce would be enough. He is proven wrong as its thickness and flavor provide plenty of cheesy and beer-y sustenance.
Pies 'n' Thighs
A mega-sized doughnut shines at this place. A pecan butter crunch doughnut is on the menu. Toffee and pecan are crunched up to coat the fried dessert. Guy claims it weighs three pounds. Although it's never actually weighed, the doughnut looks plenty dense and packed with calories. It does look like it'll increase your waistline, but come on, it's a doughnut. There's no such thing as a healthy doughnut. And if there is, don't eat it! Eat one at Pies 'n' Thighs, you'll enjoy yourself.
Ben's Best
This 1940s Jewish deli specializes in kreplach, dumplings stuffed with brisket. Guy tries the fried kreplach and boiled version in soup. Naturally, he enjoys it. How awkward would it be for Guy to go to a location and make sour faces as he eats? Corned beef, beef tongue and stuffed cabbage also feature prominently at Ben's Best. The stuffed cabbage is a real mouthful. You get two meat-filled stuffed cabbages. Enjoy.