'Half Man' Angus T. Jones Blasts 'Two and a Half Men,' Pleads You to 'Stop Watching'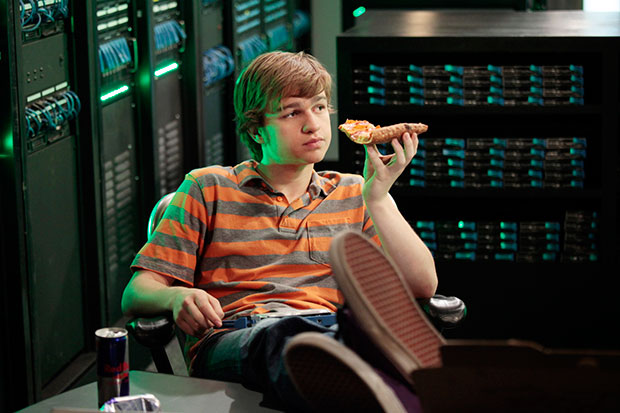 Two and a Half Men just can't get cut a break.
Angus T. Jones, the 19-year-old actor who plays Jake Harper, the "Half Man" on the CBS comedy juggernaut, has come out swinging at the show that made him a star. A recent "born again" Christian, Jones gave an extensive video testimonial to the faith-focused website Forerunner Chronicles, in which he calls Two and a Half Men "filth" and urges viewers to "please stop watching it."
Though by any standard a megahit, Two and Half Men has often been criticized for the crude, highly sexual nature of its humor, and Jones, for one, seems to have had enough. "Jake from Two and a Half Men means nothing," Jones says in the Forerunner Chronicles video. "He is a non-existent character. If you watch Two and a Half Men, please stop watching Two and a Half Men. I'm on Two and a Half Men, and I don't want to be on it." He later adds, "People see us and think, 'Oh, I can be a Christian and be on a show like Two and a Half Men.' You can't. You can't be a true God-fearing person and be on a show like that. I'm not okay with what I'm learning, with what the Bible says, and being on that television show.
Now in its tenth and possibly last season, Two and a Half Men remains a ratings powerhouse (it still averages over 12 million viewers per episode) despite several years of behind-the-scenes controversy that included the infamously heated departure of original series star Charlie Sheen in March 2011, following tiger blood-fueled comments he made disparaging series creator Chuck Lorre that turned the catchphrase "Winning!" into an ironic meme. Sheen played the on-screen brother of Jon Cryer's Dr. Alan Harper and uncle to Jones' Jake Harper. Ashton Kutcher was hired to replace Sheen for the start of the Fall 2011 TV season. Jones' critical remarks will surely add fuel to the rumors that this will be the series' final season.
Check out Jones' video below:
CBS has not yet responded to Hollywood.com's request for comment.
Think the actor has a point? Or has he lost his sense of humor?
Follow Christian Blauvelt on Twitter @Ctblauvelt
[Photo Credit: Richard Cartwright/CBS]
More:
'Two and a Half Men': Miley Cyrus' Bizarre 22-Minute Monologue
'Two and a Half Men' Creator Chuck Lorre to Release Vanity Cards as Coffee Table Book

Jennifer Lawrence Bikinis in Hawaii: Her 15 Sexiest Pics

Remembering Larry Hagman, 'Dallas' Star Dead at 81