Hallmark Channel to Air Kitten Bowl on Super Bowl Sunday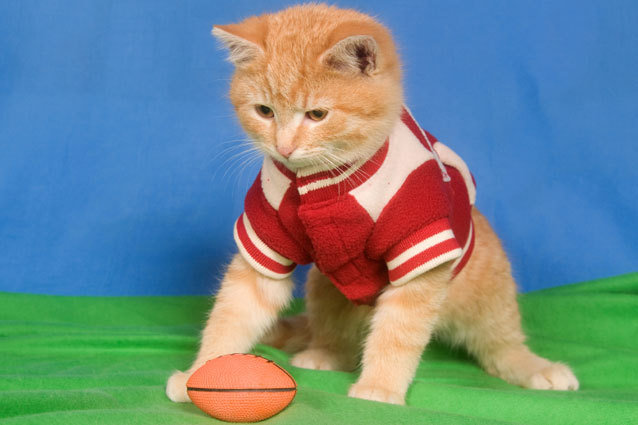 People love animals. Because really, what's not to love? Have you see the YouTube video of the cat who gets surprised every time you tickle it? Do yourself a favor and Google "Suprised Kitty video." You can thank us later.
Well now the Hallmark Channel is hoping that cute kittens will translate into ratings because the cable network just announced they will be adding the first annual Kitten Bowl to its lineup next year, according to The Hollywood Reporter.
RELATED: Super Bowl XLVII Trailers: Which Movie Are We Most Excited For? — POLL
The Kitten Bowl will air on the morning of Super Bowl and is like Animal Planet's Puppy Bowl — which saw an array of dogs playing on AstroTurf for 12 hours and got over 12 million viewers. But this time the main attraction is adorable furry kittens. The adoptable felines will compete in various competitions with the hopes of ultimately getting adopted by a viewer.
President and CEO Crown Media Family Networks, Bill Abbott said, "Creating another programming event to reinforce Hallmark Channel's Pet Project, our corporate pet adoption and safety initiative, enhances the profile of the plight of shelter animals in our country while providing fun, family-oriented entertainment to our viewers. We are very proud of our association with American Humane Association and their support of our work in this area." 
Follow Lisa on Twitter @LisaCostantini.
[Photo Credit: iStockphoto]
---
From Our Partners


Hayden Panetierre Bikinis in Miami (Celebuzz)


Pics of The Rock Making Things Look Small (Vulture)