Is 'Hannibal' A Worthy Small Screen Successor to 'Silence of the Lambs'?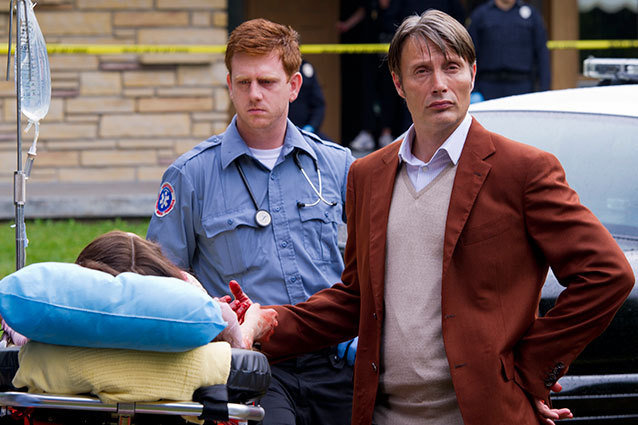 In 1991, Anthony Hopkins won an Oscar for his brief, but memorable role as Hannibal Lecter. Hopkins' disappearance behind the shroud of the cannibalistic doctor's psychotic charm turned author Thomas Harris' character into a Hollywood brand. The previous iteration of the character — 1986's Manhunter — would be ignored. Hopkins owned the character now, and would reappear in Hannibal, the prequel Red Dragon, and pass the torch to Gaspard Ulliel for the prequel origin story Hannibal Rising.
In a surprise to no one, multiple attempts have been made to bring Dr. Lecter to the small screen, with one finally having slashed its way into existence. Tonight begins NBC's Hannibal, which recounts the action back before Lecter was locked up, muzzled with his iconic jaw guard. In this version, Special Agent Will Graham (previously played by William Petersen in Manhunter and Ed Norton in Red Dragon) is once again investigating grisly murders, pulled from his classroom safehaven to solve crimes that require his unhinged brain, capable of recreation and full immersion. His boss, Jack Crawford, is in desperate need of Graham's intellect, but he knows his frail recruit could snap at any minute. So he hires a psychiatrist, Dr. Hannibal Lecter, to keep tabs on him.
Hannibal preys on our expectations of the franchise, finding new motivations and arcs for familiar characters that keep us looking for clues. Creator Bryan Fuller is as calculated as his diabolical character when setting up threads for the show: there are mysteries immediate and gestating, all presented with stylish, down-right-frightening imagery.
Is NBC's latest hour-long for you? Here's the real skinny on Hannibal:
Actors you'll know: Hugh Dancy (The Jane Austen Book Club, Martha Marcy May Marlene), stars as Will Graham, Laurence Fishburne jumps from CSI to costar as Crawford, and Casino Royale villain Mads Mikkelsen slips into the role of Lecter, bringing a new dimension to the character. His Hannibal the Cannibal (who we won't see doing much murdering in the early episodes of the series), is a bit of a playboy in Hannibal: cunning, suave, and handsome. The perfect cover-up.
5 Reasons You Might Want to Watch: If you're a fan of Silence of the Lambs, Hannibal modernizes the movie's sparse look and procedural structure — mostly because it's been overdone by other television shows. It feels right, more cinematic than any of NBC (or other networks) stabs at the same experiment. Plus: Mikkelsen is creepy as all hell, Dancy finds his own way to leave our heads spinning, and gasping every five seconds at what new murder has been committed is part of the fun. And a Shining reference in the first episode! Nice touch.
5 Reasons You Might NOT Want to Watch:Blood. Guts. Blood and Guts. A slightly annoying ensemble cast who offer quips in-between the slow burn drama. So much blood (then again, if that's your thing, this is a positive!).
Love it or Leave it? Hannibal is one of the boldest network shows I've ever seen. And not only in terms of gore (of which there is an amazing amount). TV is often cited as a writer's medium, but in a rare instance, Hannibal feels like a director's show. David Slade (Hard Candy, 30 Days of Night) helmed the pilot and it's slick and unsettlingly composed. The style of putting us in Graham's mind never feels like a gimmick, slipping in and out without warning, leaving us on edge from beginning to end. It's a freaky show, and looking ahead, it gets freakier. Stick with this one.
Follow Matt Patches on Twitter @misterpatches
[Photo Credit: NBC]
---
From Our Partners


Hayden Panetierre Bikinis in Miami (Celebuzz)


Every Jurassic Park Dinosaur Ranked From Best to Worst (Vulture)