'Hell on Wheels' Season 3 Gets Moved to the Saturday Dead Zone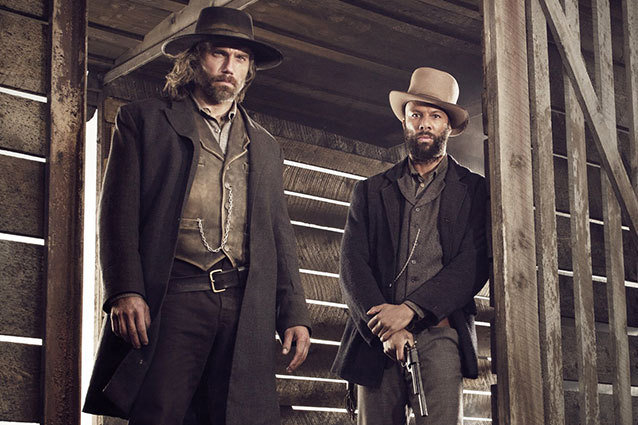 Hell on Wheels is headed where many other series fear to tread: Saturday nights. AMC's Western has received a Season 3 greenlight from the cabler, after some speculation that the show might be axed. However, the network is pushing it off their prime Sunday lineup this summer, which has filled up pretty fast with Season 3 of The Killing, the new drama Low Winter Sun, and, of course, the final eight episodes of Breaking Bad. That left no room for Hell on Wheels. 
AMC boss Charlie Collier is undeterred, though. In a statement he says, "A new episode of Hell on Wheels on Saturday night after a full day of Western fan favorites is going to be like the saddle on top of the horse." He's suggesting that Saturday is going to be turned into an all-day Western lineup, now that AMC has acquired the rights to sagebrush classics like Howard Hawks' El Dorado, John Ford's The Man Who Shot Liberty Valance, and Don Siegel's The Shootist. AMC is also planning special anniversary airings of 1953's Hondo, 1963's McClintock!, 1968's Hang 'Em High, and 1973's High Plains Drifter.
Saturday night has pretty much been a no-man's land for television — both network and cable — for years. But in the '90s CBS found success placing Dr. Quinn, Medicine Woman on Saturday nights. AMC is betting that Hell on Wheels will fill a void no one realized even existed.
Hopefully people will watch it then, because Season 3 actually sounds really good: It's 1867, the third year of building transcontinental Union Pacific railroad and vengeful gunslinger Cullen Bohannon (Anson Mount) decides to leave his vendetta behind and help the company combat the rival Central Pacific Railroad in their race to the ocean. Expect musings on racism, capitalism, and Manifest Destiny.
Will you be watching on Saturday nights?
Follow Christian Blauvelt on Twitter @Ctblauvelt
More:
Is the Renewal of 'Hell on Wheels' On Hold?
---
From Our Partners


Jessica Alba Bikinis in St. Barts (Celebuzz)


Which Game of Thrones Actor Looks Least Like His On-Screen Character? (Vulture)