'HIMYM' Officially Renewed: We Will Meet the Mother… in the 9th and Final Season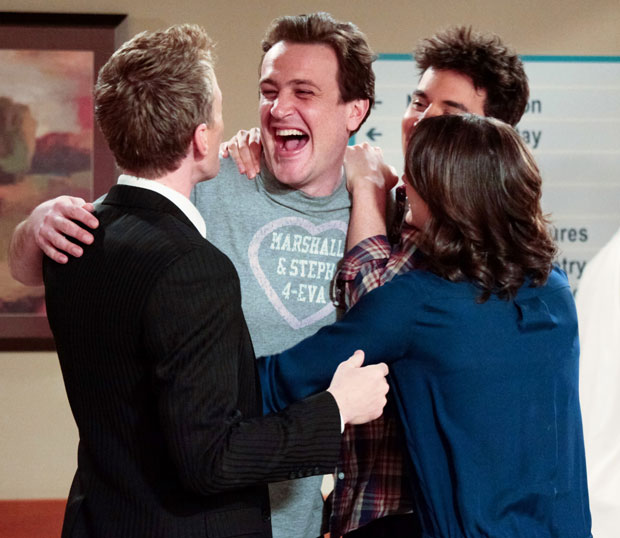 It's time for a little legen…DARY news. Right in line with the continuing chatter about the future of beloved CBS sitcom How I Met Your Mother, CBS has officially announced that the series will, in fact, return for a final, ninth season. And yes, die-hard HIMYM-ers, that means there'll be no further speculation: we will finally (thankfully) meet "The Mother" we've been waiting eight years for.
Despite worries about stars like Jason Segel flying the well-worn coop for bigger and brighter opportunities in Hollywood, the entire cast, including Segel, Neil Patrick Harris, Alyson Hannigan, Cobie Smulders, and Josh Radnor, will continue palling around over beers at McClaren's. And with a pretty new face added to the mix.
Fans were disappointed last week when the long-running theory that Barney's (Harris) sister was the fabled future betrothed of Radnor's Ted was squashed (we met Barney's sister, but we haven't met the mother, so that theory doesn't quite hold water any more). And while many fans have speculated that the future Mrs. Mosby will finally reveal her nine-year-saga-inspiring face in the Season 8 finale, that was before a ninth season was certain. Get ready folks, it's possible that there will be an entire summer between us and the big reveal and if they're really serious about it, a summer and 22 episodes.
But hey, it will happen, and it won't be rushed! That's good news, right? After eight years, we're definitely hoping to slow this big reveal down just a little more, right?
Follow Kelsea on Twitter @KelseaStahler
[Photo Credit: CBS]
More:
Some Morons Think Neil Patrick Harris' Super Bowl Ad Mocks Christianity
Neil Patrick Harris Talks the End of 'How I Met Your Mother'
'How I Met Your Mother' Season 9: 5 Rules to a Good Final Year

20 Hottest Celebrity Bikini Bodies