'Homeland' Creator Alex Gansa on Emmys & Being Less Than Six Degrees From Obama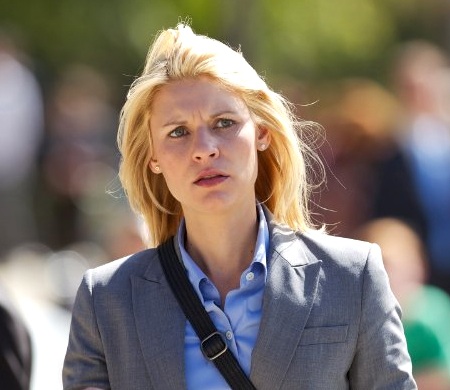 We're a little over 24 hours from the Season 2 premiere of Homeland and less than a week past the Emmys, during which the Showtime series swept the top drama awards, including Outstanding Actor, Outstanding Actress, and Outstanding Drama Series. Needless to say, it's a good week to be creator Alex Gansa. Naturally, we thought it'd be the perfect time to chat with the writer and creator about the night that changed everything and what it takes to create the realism of Homeland. 
Hollywood.com: I just finished the first episode of the season and it was awesome, so congratulations on that.
Oh thank you. That makes me happy, thank you. I can't believe we're going again. It's just like, oh my God.
Everyone's excited, we've been talking about it around the office. But the bigger congratulations are due to the Emmys you guys just picked up. What was that night like?
That was doubly sweet because that was unexpected for us. We went to the Emmys ready to celebrate Claire's [Danes] win. That's what we thought was going to happen. And then the tide completely turned in our direction in just an unbelievable way.
Who were you expecting to best you guys? Were you fans of any of the other shows?
Oh my God, I think every single one of those shows. I honestly believed that it was Breaking Bad's turn. They just put together such an incredible string of seasons, and the fact that the show has been overlooked, you know I thought the academy would realize that it was Breaking Bad's time. Not that I didn't secretly believe that maybe we deserved it, that Breaking Bad was really the sentimental favorite.
We did see Aaron Paul up there, so they did get some love.
Yeah, we did. And you know [Bryan] Cranston has won so many time that I think that's when we knew that we really had a chance is when Damien [Lewis] got the best actor award. Then my palms were really starting to sweat.
That was the definite turning point for all of us!
It was definitely awesome.
Did that take any of the pressure off, going into Season 2?
Please. Far from it. Far from it. I think the expectations are high for Homeland in the second season. And I think whenever you come to impossibly high expectations, the possibility of failing to meet those expectations are always huge. Our whole campaign for the last three months has been to lower expectations. Everyone just needs to chill, we're going to tell another good season story. Is it going to be as good as Season 1? I don't know … we just hope that the story is as compelling.
So the Emmys kind of screwed you guys up then? They heightened it even more.
They did! They kind of screwed us. (Laughter)
Also, you've got a fan in President Obama, which is pretty great. How did you first hear about that and what was that like?
I first heard about it from Claire Danes, who I guess heard about it from – she's friends with Jon Favreau who's friends with one of Obama's speechwriters – and so she sort of heard through the grapevine that Obama was watching the show. And we never believed it. We just sort of thought it was hearsay and nonsense. And then President Obama was on The View and mentioned Homeland and then out came the Rolling Stone article which mentioned he had talked about the show and we were just, stunned isn't even an appropriate word. You know, [I was] floored by the fact the President was taking time out on a Sunday afternoon to watch a couple of episodes of Homeland. I mean, please, it doesn't get any better than that!
What do you think it says about the quality of your show then, that the President of the United States not only watches the show but really enjoys it?
I would be a little worried to know that he's watching the show to get any pointers on world events. I would think it's a nice escapist hour in the middle of the most impossible schedule any man on the planet could have.
Do you take it as a compliment to your ability to capture this world realistically?
I've heard through the grapevine and through our consultants in the intelligence field that we do a reasonable job of approximating what intelligence work looks like. So that's gratifying. We do a lot of research and we talk to a lot of people. We try to present something that feels real. Otherwise it would just be cartoon. So I'm glad he's watching the show and he's buying and suspending his own disbelief. I'm glad he's enjoying it. So that's fantastic.
Some people were concerned that there is a little bit of U.S. Embassy protests in the first episode of the season, and I believe you responded because obviously the protests are different and you wrote this episode months before the Libyan protests were happening. What do you think it says about your show that you write things that wind up happening in reality?
Well, you know, demonstrations outside of U.S. Embassies are hardly a new thing. They've been going on for a long time, so I don't think we were at all prescient about that. You know the one thing we've been concerned about as we looked back at these episodes is just to make sure that we're being incredibly sensitive to the dangerous work that all our foreign service and intelligence officers do over seasons, and the death of Ambassador Stevens. Again, it underscores the committment and patriotism that these people have. And if there's one thing you learn by doing research and meeting with people that work in this field is there intense dedication and belief in what they're doing. And we're just happy that that's how we would up portraying all our foreign service officers and intelligence officers. And that's really all you can do.
Gansa also helped dissect the season premiere of Homeland, but we're saving the spoilers for Monday morning. Check back then for a deep dissection of all the twists and turns.
Homeland premieres Sept. 30 at 10 PM ET on Showtime.
Follow Kelsea on Twitter @KelseaStahler
[Photo Credit: Showtime]
More:
The First 20 Minutes of Homeland are Jam-Packed With Action
Everything You Need to Know Before the Second Season of 'Homeland' Premieres
Emmys 2012: 'Homeland' Takes Home Its First Outstanding Drama Emmy